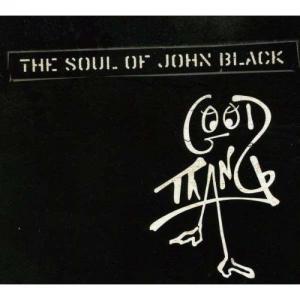 Sometimes, things just get missed in all the hustle and bustle of the day-to-day. American Blues Scene came across The Soul of John Black – Good Thang recently, and are we glad. This album is completely righteous! If you enjoy your blues with equal parts of funky goodness mixed in, and some soul thrown in for good measure, then Good Thang is for you. On this outing, The Soul of John Black are: John A Bigham on vocals and guitars; Oliver Charles on drums; Adam McDougall on keys; and on background vocals,  Jonell Kennedy and Nikka Costa ("New York to LA").
This is blues with a pulse! There are several stellar tracks here. "Digital Blues" will remind you of 70's soul with its great beat and crisp rhythm guitar (which is a welcome constant throughout the entire album). Bigham slides a nice little bluesy solo in and the keyboarding throughout is a nice touch. "Good Thang" has driving guitar, great vocals, and again, sweet keyboards, all layered perfectly. "Oh That Feeling" is like a journey through the wonder of Funkadelic, only this is more accessible, and will take you back. "My Brother" starts out with just dobro sounding guitar before kicking in with a strong backbeat, accompanied by vintage Stevie Wonder style synth licks, and a sweet bass line. It's a slow blues with some thump, and nicely done.
Other cool cuts include the soulful "Lil' Mama's In The Kitchen," with its mellow vocal. "New York to LA" is what blues would sound like if Cameo and Funkadelic met up with The Crusaders in a New York alley and played some blues; just so smooth. "I Love It" has some more dobro sounding guitar, organ and electric guitar accents, and is a little heavier than most of the album. "Dream (Turn Off The Phone)" is slow and easy.
Interesting and unique album overall. Production and sound quality are very good. (This is one of those albums you really should listen to through headphones!) Pick this up! Also: While we were writing this, we had the opportunity to check out The Soul of John Black "The Good Girl Blues," which is also a melting pot of many styles fused as blues, and it is also very, very good listening.