Florida has a rich tradition in the blues. It has given the world The Allman Brothers Band, Eric Sardinas, Tom Petty, The Tedeschi Trucks Band, Ray Charles, Dickey Betts, and Blind Blake, and many more outstanding blues artists. Florida also hosts three of the premier blues festivals in the country: Wanee Music Festival, Tampa Bay Blues Festival, and the Sarasota Blues Festival. So when it was announced that a new Florida blues tradition was starting, there was great anticipation. The first annual Sunshine Blues Festival was held in Fort Myers on 18 January, Boca Raton on 19 January, and finally in St. Petersburg on the 20th of January, in Vinoy Park. American Blues Scene was fortunate enough to attend the St. Petersburg show.
Attending any outdoor music event in Florida is an experience to be remembered. The Sunshine Blues Festival was no exception. Most of the year there is sunshine and warm weather, and a fair amount of these events are held right on or at the water's edge. This provides a wonderful setting for some great music. This day started a little overcast, but cleared and warmed up nicely. The lineup for this event was stellar! Scheduled to play were: Bobby Lee Rodgers, Sean Chambers, Jaimoe's Jasssz Band, Big Sam's Funky Nation, Sonny Landreth, The Wood Brothers, Walter Trout, Matt Schofield, Dr. John, Joe Lewis Walker, and the Tedeschi Trucks Band. Two stages were set up side by side down front so that as one act finished, the next would begin. For the most part, this worked fairly well.
The event did start a tad bit late due to people not being admitted until about 10 minutes prior to start time. This being the case, the crowd was small when opener Bobby Lee Rodgers took to the stage, which was a shame because Rodgers played a great set! As a solo artist, Rodgers first played the Wanee Music Festival in 2009 and has been a Florida favorite since. Rodgers has a unique guitar voice as he runs his guitar through a  vintage amp and a Leslie cabinet. This makes for a rich sound. With some fine playing and great technique he delivered a very impressive set. Next up was local favorite, Sean Chambers. Chambers toured from 1998 through 2003 with Hubert Sumlin as bandleader and guitarist. He delivered the goods here too, even strolling through the crowd as he played. Chambers played a scorching "In The Wintertime," as well as the classic "All Your Love (I Miss Loving)." He was kind enough to speak with American Blues Scene for a quick couple of questions. He spoke about his work with Blackfoot and their upcoming album. "Yeah, that's Rickey Medlocke's group. I was invited to jam with the band and the chemistry was good. So, yeah, we are working on a new album coming out this year, and some touring." Regarding his own new material he says, "We are working on a new album, writing new material, and of course we'll be touring." Chambers is a great talent, and very down to earth.
Jaimoe's Jasssz Band was up next. Jaimoe received the Grammy Lifetime Achievement Award in 2012, and is an inductee of the Rock and Roll Hall of Fame. Besides his time with the Allman Brothers Band, Jaimoe also played with the group Sea Level, and was a member of Otis Redding's touring band.  Jaimoe and company played some of the sweetest blues heard in these parts for a long time! Right away it was apparent that this was quality musicianship, especially guitarist Junior Mack, who also provided amazing vocals. The band played "Hippology," Leaving Trunk," "Drifting and Turning," "I Believe I'll Make A Change," and a stunning version of "Melissa." The sound was jazzy blues that was light and airy; just some really fine ensemble playing.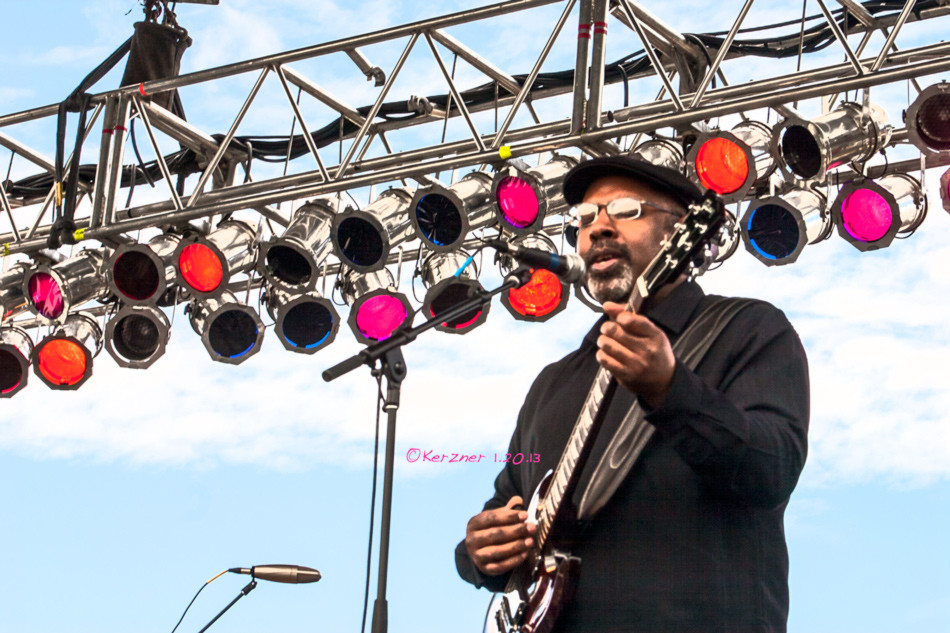 Big Sam's Funky Nation followed Jamioe and they really brought some funky goodness to the party! As they started out, the crowd was a little skeptical, but the band soon won them over with their enthusiasm and talent. This was not your daddy's New Orleans flavored funk (which came later with Dr. John); no, this was "Urban Funk," and it was beautiful! Everyone in this band was insanely good on their instrument, and as a whole, they were a powerhouse. Especially good were guitarist Andrew Block, and Andrew Baham on trumpet. The band really whipped the crowd into a frenzy with "Funky Donkey."
The festivities kicked into high gear with the appearance of slide wizard Sonny Landreth. He put on a display of slide guitar mastery that would have had Jeff Beck shaking his head, and the crowd couldn't get enough. Besides the incredible slide playing, Landreth had exceptionally good tone; simply amazing all the way around. High points of this set were "Cherry Ball," "Blue Tarp Blues," and "Brave New Girl." Following Landreth were The Wood Brothers. When you are a trio that plays a lot of acoustic music, following someone like Landreth is no easy task, but this group more than pulled it off. Playing a set of mostly acoustic material, and then some where Oliver Wood is on an electric guitar made things very interesting. The level of musicianship the band brought to the crowd was very high indeed: Great material that is well written and brilliantly executed. 
When Walter Trout came on, the crowd was primed and ready. They were like a bunch of kids gathered around the cookie jar, just waiting for mama to lift the lid. So, really, Trout didn't have to work to win the crowd over: but he did, and that is what makes him so great. Not only did he work at it, he played hard and with soul, from way down deep inside. Trout played an incredible, blistering set with awesome technique and bluesy piercing tone. High points included "Our Brother's Keeper," "Catfish Blues," and the impressive "I Saw Mama Cry." 
Matt Schofield was up after Trout and brought a decidedly older school of blues to the stage, almost recalling John Mayall's Bluesbreakers. Some of his playing is swinging blues, some is old school blues, and some is his own unique take on blues. With excellent technique, stellar tone, and heartfelt playing, this band had the audience wrapped around their finger. This set was exceptional. Dr. John stepped up with his band following Schofield, and they did bring the New Orleans jazzy-funk with them. They brought it hard too. This set was an hour of stunning, luscious, delicious funk at its very finest! It was decadent, indulgent, and the crowd ate it up. High points included "Runner," "Such A Night," "How Come My Dog Don't Bark When You Come Around?" and "Locked Down."
Joe Louis Walker took the stage after Dr. John, bringing his unique brand of blues, soul, and gospel with him. From the second they began to play, the band was on fire! Walker opened with "Too Drunk To Drive Drunk" and tore it up. "Soldier For Jesus," "Tell Me Why," and "Black Girls" were other high points. For his final number Joe was joined on stage by Matt Schofield and local guitar hero Selwyn Birchwood, and together they were smoking!
The last band of the day was the Tedeschi Trucks band. This band has enjoyed increasing popularity over the last 18 months, and for good reason. They have been performing at a level that is higher than any other band out on tour. It doesn't hurt that they currently have a great live album out (Everybody's Talkin') and earned the Grammy for Best Blues Album for Revelator (actually released in 2011).  This same album earned them several Blues Music Awards – Album of the Year, Band of the Year, Gibson Guitar Award (Derek) and Contemporary Blues Female Artist (Susan). The band performed for over two hours and didn't let up for a minute; each song was better than the one before. Susan's voice was in great form, and Derek's playing was unbelievable. The whole band was like one entity: all the players came together to produce a sound that was full, textured, nuanced, and insanely good. Of course they played blues, but later on they played funk too, and they had thousands of people "moving and grooving." High points were "Midnight In Harlem," "Bound For Glory," "Nobody's Free," "Uptight," and "Sing A Simple Song." This was just an incredible set.