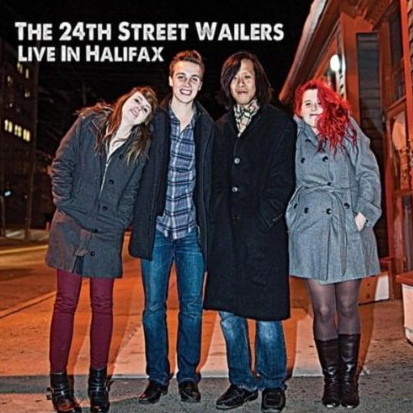 It has been a busy year for The 24th Street Wailers. In May of 2012, they released the well received and critically acclaimed Unshakeable. They have toured extensively, playing numerous shows and festivals, and opened for the likes of Jimmy Vaughan and Savoy Brown. As they have a huge fan base, it was with great anticipation everyone awaited the release of their first live album. Well the wait is over: Live In Halifax has arrived!

Recorded at Bearly's House of Blues in Halifax, Live In Halifax is varied, soulful, and the next best thing to being there at a 24th Street Wailers show. The great thing about this album is that it accurately captures all the energy and talent of the band and the appreciation of the audience. The 24th Street Wailers are: Michael Archer on bass, Lindsey Beaver on drums and vocals, Emily Burgess on guitars, and Jonathan Wong on tenor saxophone. Special guest, Marc Doucet, plays guitar on a couple of cuts as well.
The 24th Street Wailers play music that is a combination of big band, jazz, swing, and blues, and they do it so well! First of all, there is Lindsey Beaver's voice, which is a combination of Peggy Lee meets Etta James. Then there is her drumming, which is very old school, in the Ringo Starr tradition: solid basics, nothing flashy, and keeps the beat right on time. Emily Burgess can chord in the Grant Green style and run Eddie Taylor leads all day long. Michael Archer keeps the beat strong, playing tasteful bass lines. Jonathan Wong really goes for it on sax, and delivers too. Everyone in this band has grown immensely since Unshakeable was released last year. This album is an example of some mighty fine ensemble playing, which is a lost art.
Standout cuts are plentiful. "Jack, Jim, Johnny, and Me" features exceptional playing by Burgess and Wong. On the Billy Emerson classic, "The Pleasure Is All Mine," Marc Doucet delivers a simple, unhurried lead that is right on the money, with great tone. On "Empty Arms," Burgess again gives us some exquisite guitar, backed by Beaver and Archer laying down a steady groove, Wong dropping some sweet sax fills, and Beaver's great vocal as the cherry on top. The relatively slow and swinging "House Party" is just a fun, soulful groove. "Love Triangle" is a really lively instrumental with interesting time changes. The album closes out with a serious 50's style version of "Shake Your Money Maker" (think Bill Haley & His Comets, only fuller).
Along with the energy and fantastic playing, you can hear low audience crosstalk in the background. This, coupled with the live sound, gives this album a vinyl feel instead of the dry and sterile digital feel that prevails today. Definitely pick this up blues fans! Or better yet, check out The 24th Street Wailers live and see for yourself what all the fuss is about.