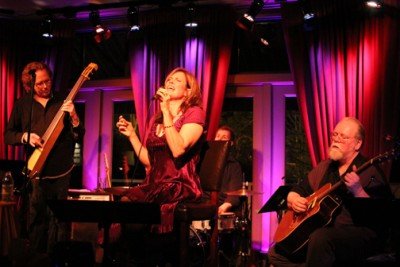 "Swingin,' swingin' on the porch on a hot day…" are the lyrics that open this CD, and are from one of the songs Mia wrote, "Little Bit of Love". It sets the southern sultry tone immediately. Take one part acoustic instrumentation, one part soft crooning voice, add a little imagination, and the romantic southern vibe is bouncing around inside your imagining head, courtesy of Mia Vermillions' self-produced and arranged CD,  Alone Together With The Blues.
Not bad for a Seattle woman! Two of the nine songs on this CD are penned by Mia, and the rest arranged by her. She covers such blues mega-hits as "In the Dark, Two Cigarettes in the Dark", and, "I'm Going to Copyright Your Kisses." Lost you? Well, you're not alone. Look at who Mia covers on this CD: Lil Green, Mary Lou Williams, Raymond Leveen.
You think Mia knows her stuff? If you happen to Wikipedia most of these covers, you'll find that most of the writers were playing the blues in the next bardo before Mia was even born. Lew Pollack? Let's give you William Lee Conley, whom most of us know as Big Bill Broonzy. She covers his "When I've Been Drinking" and "I'm Going to Copyright Your Kisses."
Now you can really impress your friends at a dinner party with this CD. First off, they'll catch the voice and ask who it is. The really curious will ask for the jacket. That means you need to get it! While the next round of forks goes into the fondue pot, you'll be able to amaze all your friends with your knowledge not only of the lesser known artists on this CD that Mia covers, but you'll be able to point out the finer points of it musically.
For this CD Mia enlisted the services of several Seattle area musicians, including Orville Johnson, Chuck Deardorf on stand-up bass, and Ben Smith on assorted percussion devices.
For example, you can point out on the Lil Green song, "In the Dark", with a delightfully soft, laid back bass line, and the quiet, layered, intricate guitar lines of Mr. Johnson. Or you can point to the last song, Lew Pollack's "Two Cigarettes in the Dark", and mention the Hans Teuber clarinet line weaving in and out of the guitar lines.
Or, in Leroy Carr's song "In the Evening"; the creative touches of her own background vocals and the steel drum. You can point to some absolutely amazing dobro work, as demonstrated in almost two opposite examples on "When I've Been Drinking", and Mary Lou Williams' "Walkin'".
You can definitely point out the awesome construction of the other song Mia penned, "Love's Lost and Found". The snare rolls and flams that seem to come and go willy nilly (they don't), the dobro line on top of the guitar. It's a great piece, perhaps the star of the album.
Dare we call this high brow blues!? Elitist!? Yikes! This is no simple stuff. Excellently arranged and produced, not a party CD, but for something smaller and more intimate, this CD is a hit. So buy yourself a copy and have some fun. Impress your friends and neighbors. Most of all, enjoy Mia Vermillion's Alone Together With The Blues