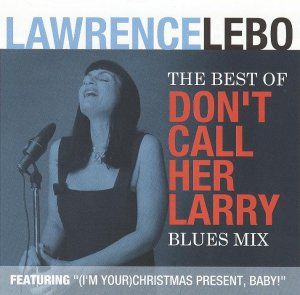 It is always refreshing to hear something different when experiencing the joy that is blues. Just finished listening to The Best of Don't Call Her Larry Blues Mix by Lawrence Lebo (On The Air Records). Hailing from California, Ms. Lebo is deeply involved with the blues. For over 25 years, she has written and sung blues. She has been (and still is) a band leader, and is currently listed as a Blues Educator with The Blues Foundation, teaching vocal technique workshops at McCabe's Guitar Shop in Santa Monica, California.
A great vocal will often lift a song to new heights, becoming an instrument all its own. Think of Peggy Lee, Dina Washington, Lena Horne, Koko Taylor, Janis Joplin, and Etta James. A great vocal will make a song. So it is with Lawrence Lebo. Her music is a combination of roots, blues, and swing styles, and is very reminiscent of cabaret/supper club style presentation of years past. What is different here, is that this music is not dated, stodgy, or uninspired. This music is subtle, classy, and evokes emotion.
The Best of Don't Call Her Larry Blues Mix is a collection of songs from Lebo's previous three CDs, Don't Call Her Larry, volumes 1-3. If you have never experienced Ms. Lebo, this is a great way to start. While the whole album is excellent, there are standout tracks.
"(I'm Your) Christmas Present, Baby!" features some sweet, old school blues guitar by Nick Kirgo, a great vocal, and strong backing from Denny Croy on upright bass, and Kenny Sara on drums. "It's Not The First Time" (Vol. 2) also features some nice guitar (Nick Kirgo), and great back-beat support from the band, including a jamming horn section. Players on this track are: Denny Croy – upright bass, Kenny Sara – drums, Bob Sandman – sax, David Strother – violin, and John Nau – Hammond organ.
"Please Don't Dog Me" (Vol. 1) is a slow smoker. This track features an upright bass line backed with guitar, banjo, violin, and mandolin, all woven together for a texture that is magnificent. On this track Ms. Lebo is backed by: John Wamsley – guitar, Denny Croy – upright bass, Dave Hopper – drums, Pat Cloud – banjo, Bob Applebum – mandolin, and on violin, Dennis Fetchet and Miriam Mayer.
"Blue Line Blues" (Vol. 2) has a good swing beat with delicious jazzy blues guitar comping and chording from Cheryl Saunders, and the finessed upright bass playing of Denny Croy. Also contributing to this stellar track is the spot-on soulful violin of David Strother, and a beautiful vocal by Ms. Lebo.
"On Time" (Vol. 3) is simple, luscious blues, consisting of a killer vocal by Ms. Lebo, and only the accompaniment of her husband, Denny Croy, on the upright bass. There are not many vocalists that could pull this off and do it so well.
This album is at once subtle, classy, well executed, and well played. It is a cut above. Perhaps the best thing about The Best of Don't Call Her Larry Blues Mix is that it is a whole lot of fun.