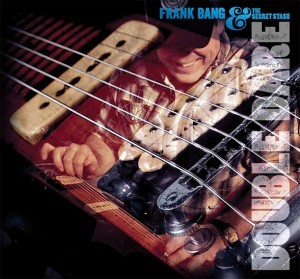 Here at American Blues Scene, we are privileged to hear the newest blues hot off the press. Every now and again we get blues that is different. Frank Bang and The Secret Stash have delivered just that with their new album, Double Dare. This is not your daddy's blues; no sir, this blues with balls. It is not delicate, elegant, or tame. This is blues that will kickstart your heart!
Bang has an interesting pedigree. Having met Stevie Ray Vaughan at an event, Vaughan told him to check out the Chicago masters Buddy Guy, Albert Collins, Buddy Guy "and all the other Chicago cats." When he eventually did move back to Chicago, he worked as a doorman at Buddy Guy's club Legends, and later wound up being noticed as a guitarist by Guy, who asked him to join his band. Having toured the world with Guy, Bang later put out several albums on his own. Having taken a hiatus from music for a while, he is back now, with a vengeance!
Frank Bang and The Secret Stash bring it with Double Dare. This album rocks, slides, roars, and even soothes in places. Several cuts stood out here. The album opens with "Double Dare," which hits you like a buzz saw! No need to wonder "Where's the beef?" because it's right here baby! This tune is beefy, stout, and driving, with a huge helping of slide guitar flavored goodness that will have you crying "Oh my." Another cut, "Burning Up In The Wind," sounds like some stripped down ZZ Top and is well played. "Lose Control" has a very '70s hardcore rock sound, with some Chicago blues undertones. "My Own Country Way" is mellow, acoustic, and has some fine picking going on. "18 Wheels Of Hell" has a decidedly Charlie Daniels/Southern rock feel to it. "Mattie's Girl" is another acoustic cut that is simple, uncluttered, very atmospheric, and features some wonderful dobro playing.
This is an energetic album. If this doesn't get you rockin' then you need to make sure you still have a pulse. Different, interesting, and well played. Great job here guys!