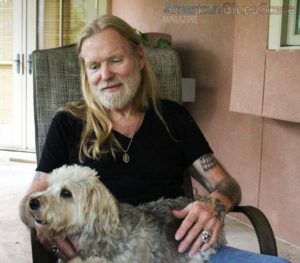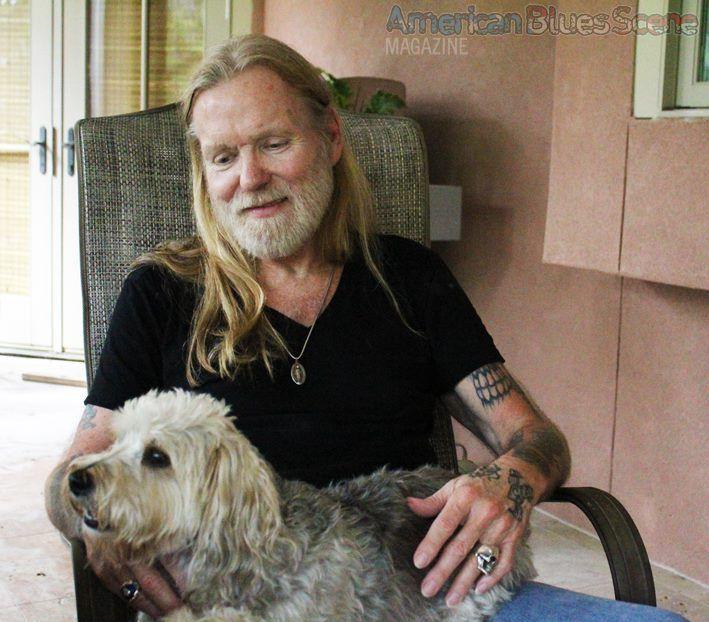 Gregory Allman casually inspects the Georgia bayou as a warm summer rain unexpectedly sweeps across ancient oak and cypress trees, leaving miles of Spanish moss to glisten in the afternoon sun. "Look at that!" he proclaims with a touch of southern lore. "The devil's beating his wife: the sun's out and it's rainin'. Look at that." The rock legend rolls a giant, mysterious skull ring back and forth in his fingers.
Down the road, signs for fresh peaches adorn dozens of roadside fruit stands, billboards, and shop windows for miles. A short drive through the Georgia pines is the town of Statesboro, first sang about by bluesman Blind Willie McTell and made world famous by The Allman Brothers Band in 1971, thanks largely to the jaw dropping slide work of Gregg's brother, Duane Allman, who tragically died in a motorcycle accident later that year. A further drive through the pines is The Allman Brothers Museum, located at what was known as The Big House in ABB lore, a place band members lived in the Brothers' early successes in Macon, Georgia. Duane is buried less than two miles away in the same cemetery that bandmates went to for inspiration.
"Come here, Otis!" Gregg brushes his long blonde locks of hair, seemingly unfazed by time and age, from his face and calls for his Yorkie Poodle. "Named him after Otis Rush," he fondly recalls of the blues guitar legend who suffered a debilitating stroke in 2004. "Otis played his last gig with The Allman Brothers… it was one of the Fillmores or The Beacon. It must've been at the Beacon."
The Allman Brothers Band are no strangers to The Beacon Theater in New York, or the infamous Fillmores, east and west. They cut their teeth playing legendary rock venues, often known to jam until beyond the break of day. The blues-based rock that the band pioneered in places like The Fillmore made them a household name. One of their breakout, platinum-selling albums, often hailed as one of the greatest live albums of all time, was recorded At Fillmore East. Even now, The Allman Brothers have had a famed annual series of dates at The Beacon in New York since the late 1980s — becoming a pilgrimage of sorts for thousands of fans.
Gregory is both a blues man and a blues scholar. As he talks about the blues music influences he holds dear, his eyes light up; he perks up in his chair — a feeling many blues junkies can all-too-easily relate to. "I listen to country blues, I listen to texas blues… a lot of Bobby "Blue" Bland. Lots of Muddy. Muddy and the Wolf, and Sonny Boy." His high cheeks raise to form a big southern smile. "My iPod, it's got a nice collection of Jimmy Smith, so you can count on one of those about every eighteen tunes or so."
His bookshelf is filled with titles familiar to music and blues aficionados. Among them, Chasin' That Devil Music by Gayle Dean Wardlow, Really the Blues, an insightful autobiography by Jazz legend Mezz Mezzrow, Can't Be Satisfied, a biography on Muddy Waters by Robert Gordon, The Big Book of Blues by Robert Santelli, and a half-dozen box sets, including Ray Charles, Miles Davis, The Band, Otis Redding.
"So many different people that I have learned from… So many teachers. So many. Otis Redding, Marvin Gaye for god's sake. The guy never sang a note off key. Never. I've searched. Like Ray Charles, some people just don't do it." He pauses and quietly ponders the stunning feat of his idols before adding, "I'll never be accused of singing totally on key."
"I went in Stax," he reminisced of the legendary Memphis soul label and movie-theater-turned-studio that churned out hit after soul-soaked hit from Otis Redding, Albert King, Isaac Hayes, Sam Cooke, and many more. "I'll never forget, we walked in the front door of Stax and the floor started going downhill and it was dark! I said to my brother, I said 'hey man! We're walking downhill!' And he looked at me like I was Mo from the three stooges. 'Numbskull. It's a movie theater!' Rufus Thomas was in there cuttin', 'SISTERS GOT A GIRLFRIEND!'" he lets out a long laugh after an interpretation of the 'funky chicken'. "I don't know if they ever released that; I've never heard it since! The band had already left… I reckon it was Dunn and Cropper and them. Neat Place. All they had was One Track Scully's. That was it. Very impressive at the time!"
"I have an ipod and I put all my favorite stuff on there. You can dial up anything. I mostly listen to blues. That's… mostly what I listen to." One would think the lead singer of one of the most influential bands of the 70s might have a preference for vinyl. "I am if it's gonna be a formal thing, ya know? The iPod is so easy. Once you get back into the vinyl thing, you will find out just how much you enjoy a damn remote switch… You find out just how lazy your ass has become!"
Despite being one of the most celebrated rock bands in the world, his roots are still what matter to the Hammond B3 player with a knack for songwriting and belting vocals taylor-made for the blues. "I've always wanted to play the W.C. Handy Awards. I've always wanted a W.C. Handy Award [now called the Blues Music Awards.]" The accolades of the greater industry are meaningful — The Allman Brothers Band won a Grammy Lifetime Achievement Award last year for their decades of shaping and influencing modern music, but the man who's built an enormous musical legacy from his love of the blues continues to hold the genre in a higher echelon. "You get certain tones from here or there, and different songs bring different shades of — it all stays within this one space, know what I mean? It all revolves around the blues."
It was recently announced that a movie is in the works about Gregg's widely publicized, wild rockstar life on the road, based on his hit book, My Cross To Bear. "It hit me pretty hard, because, I mean first of all… it wasn't even supposed to be a book. I didn't set down to write the book. It was my journal… that got out of hand," he laughs. The question on many minds, though, is who's going to be able to fill the big-screen shoes of the venerable rocker with a legendary life and story? "Whoever does it, I have faith that the screen writer will write plenty for him to chew on and, you know, I hope he learns how to just… talk slow… and sing too, by the way! It'd sure help if he could sing!"
The news of a major motion picture places the Allman brother among the royal company of Johnny Cash and Ray Charles. "Therefore, it better not suck!" proclaims Allman, with a blunt disposition and a hearty chuckle. Between the relaxed and revealing nature of the autobiography and the fact that Gregg and his manager, Michael Lehman, will both be executive producers on the film, the movie seems destined for good things. Original Allman Brothers music will be used in the movie, and re-recordings of live Allman performances will be re-created for the film. "I gotta tell ya, I am scared out of my boots, man! Well, part of me is. And part of me feels like it's a very good challenge, you know? "
Now 65, Gregory has spent nearly his entire life making music. "I started playing when I was ten years old and by the time I was thirteen, I was playing live gigs. Just kind of playing with a band. It was a band called the 'House Rockers and the Untils'. That big pier? Out at Daytona Beach Florida? That is where I learned how to play. Right there. That's where I got most of my chops."
"Friday, Saturday, Sunday we made $6 a night," Allman fondly recalls. "And they didn't need two guitar players, so me and my brother would switch off every other night. The 'House Rockers' was the rhythm section, which was the bass, drums, guitar, piano, saxophone, and 'The Untils' was these two black dudes that stood in the front and sang. And one of those dudes was Floyd Miles, who's still on the road with me today!" The family of Allman Brothers is the stuff of legends. Those in the band have truly been a sort of lifelong brotherhood.
Was six dollars a day much money then? "Hell no! I just thought, I was proud as punch to be gettin' paid to play! There was no other place I would have rather been… Hanging with my buddies and learning some more stuff! We were playing rhythm and blues. Straight on."
It's been over fifty years of music since those days at the Daytona pier. Gregory has experienced tens of thousands of gigs, international accolades, platinum-selling albums, fame, fortune, Grammy awards, and more than his share of heartaches and losses. Through a lifetime of rock-n-roll, his single biggest accomplishment is poignant, simple, and yet endlessly complicated.  "I think the biggest [accomplishment] was not falling by the wayside after my brother died."
Otis jumps into Gregory's lap, resting a head on the musician's knee. Gregg runs his fingers through Otis' brown and silver curls and sits for a long, silent moment. "For the sake of arguing," he rises to attend to some quick business before he stops in thought. "If I named my dog after somebody, I named him just as much after Otis Spann," he smiles with a reverential gleam in his eye.