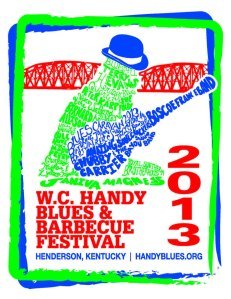 (HENDERSON, KY) – The Henderson Music Preservation Society is putting on the 23rd Annual W.C. Handy Blues & Barbecue Festival in Henderson. The festival, which began June 8 and will last through the 15th, will feature blues stars and rising stars coming together to create super bands. We will have the tried and true as well as the fresh and new to the festival.
W.C. Handy Blues and Barbecue Festival Information
The festival will be hosting performances in a wide variety of blues styles, from gritty Chicago blues to smooth soul to Delta blues. A perennial favorite is the Thursday night which features Zydeco music.
The festivities began on Saturday, June 8 with the "Taste of Henderson Barbecue", the Mardi Gras-style William Branaman Street Strut Peoples Parade and great live music Henderson's Central Park.
Now in its 23rd year, W.C. Handy Blues & Barbecue Festival has become one of the largest free music festivals in the nation, drawing attendants from almost every state and many countries. The festival was recently recognized by the Southeast Tourism Society as one of its Top Ten Events June. The event is a celebration of the life and legacy of Henderson resident and "Father of the Blues," William Christopher Handy.
Wednesday, June 12
6:00 pm – Peter Karp & Sue Foley
8:00 pm – Voice of the Wetlands Allstars – Tab Benoit,Cyril Neville, Big Chief Monk Boudreaux, Waylon Thibodeaux, Jumpin' Johnny Sansone, Cory Dupelchin and Johnny Vidacovich
Thursday, June 13
5:15 pm – Curley Taylor and Zydeco Trouble
8:00pm – Chubby Carrier & the Bayou Swamp Band
Friday, June 14
Noon – Amazing Soul Crackers
2:00 pm – Three Shades of Grey
4:00 pm – Boscoe France Band
6:00 pm – Terry Evans Band
8:00 pm – The Holmes Brothers
10:00 pm – Royal Southern Brotherhood – Devon Allman, Cyril Neville, Mike Zito
Saturday, June 15
Noon – Super Chikan
2:00 pm – 2013 Ruf's Blues Caravan – Joanne Shaw Taylor, Bart Walker and CJ Wilder
4:00 pm – Bill "Howling Mad" Perry
6:00 pm – Heritage Blues Quartet – Junior Mack, Bill Sims Jr, Chaney Sims, & Kenny "Beedy Eyes" Smith
8:00 pm – Janiva Magness
10:00 pm – Bernard Allison