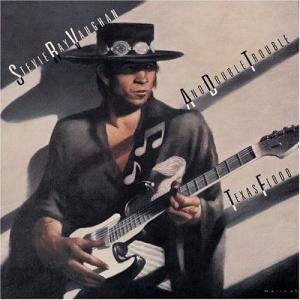 Today marks the 30th anniversary of Stevie Ray Vaughan's landmark debut album, Texas Flood. Released on June 13th, 1983, the album almost immediately made a monumental impact on music, going double platinum in the United States and winning widespread, mainstream radio airplay. Named after a cover of a 1958 blues track by bluesman Larry Davis, Vaughan's album helped propel widespread exposure of the blues to vast new audiences.
In the summer of 1982, Stevie Ray Vaughan and Double Trouble performed at the Montreux Jazz Festival with high hopes and spirits. The powerhouse performance, while stunning, was inexplicably poorly received — audience members in video footage of the show can even be heard booing. Vaughan was reportedly crushed at the reception. Luckily, however, his wild, guitar heavy performance caught the attention of two musicians in the audience: David Bowie and Jackson Browne. Bowie invited Vaughan to play guitar on his Let's Dance album (which would become his best selling), and Browne offered to record Vaughan's first album at his personal L.A. studio.
Four months after Montreux, they recorded their demo at Browne's studio. The album consisted of five tracks written by Vaughan, four covers of songs by Buddy Guy, Howlin' Wolf, Larry Davis, The Isley Brothers, and one song co-written by fellow Texas bluesman Doyle Bramhall with Vaughan. The demo was noticed by legendary A&R man John Hammond, and Double Trouble signed to Epic Records.
The album was a huge hit, being nominated for two Grammy awards, including Best Traditional Blues Album, it reached #38 on the Billboard chart and sold over 500,000 copies. Vaughan quickly became a runaway success with his lightning fast Texas blues riffs, wild stage antics, and originality.
For the record, Rolling Stone Magazine panned the album, citing a lack of distinctive style.
Just over seven years after Texas Flood's release, Vaughan and Double Trouble played Wisconsin's Alpine Valley Music Theatre. They ended the show with an all-star lineup of Buddy Guy, Jimmie Vaughan, Robert Cray, Eric Clapton, and Stevie Ray. That evening, he boarded a helicopter bound for Chicago and, under heavy fog, the pilot made an error in judgement and crashed into the side of a mountain, killing everyone aboard instantly.
Though his period of international fame was short, Vaughan still managed to touch the world with his own unique brand of guitar-driven Texas Blues, and helped fuel a mighty renaissance in interest in blues music that still continues to reverberate to this day. Vaughan's magic on Texas Flood has influenced countless artists, and touched the hearts of millions.