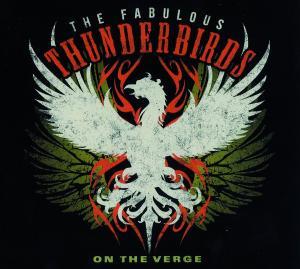 They're back! The Fabulous Thunderbirds are On The Verge (Severn Records). Their first new album in ten years, On The Verge is full of surprises, and features a more soulful sound. The playing here is tighter and more restrained; it's some of the best material the band has ever laid down on disc. This is not an album that was phoned in, and it shows. There is a lot of love here.
These days the band is Kim Wilson on vocals and harp, Johnny Moeller and Mike Keller on guitars, Randy Bermudes on bass, and Jason Moeller on drums. These gentlemen do a superb job, and the playing here is brilliant. In addition, the background singers, horns, and Kevin Anker on keyboards add all the right touches in just the right places. It's almost as if they all just got back from a visit to Stax and Motown, threw that in a blender, mixed in some Texas blues, and hit puré. Man, this is great stuff!
A very solid album all the way through, there are several standout cuts. "Hold Me" has a beautiful Van Morrison vibe going on, but is not weighed down by smaltz. "Running From The Blues" is Wilson Pickett inspired soulful goodness. "Do You Know Who I am?" will give you flashbacks with its sweet 1970's funky wah drenched guitar. "Got To Bring It With You" is some fine Funk Brothers-straight-off-a-Temptations-record, with a Texas edge. Wonderful! "That's The Way We Roll" is funky bluesy fun, and "Diamonds Won't Kiss You Back" is a Curtis Mayfield inspired delight.
Kim Wilson's singing has never been better! His harp playing is inspired, but brilliantly restrained, making it all the more poignant. Again, the band does a spectacular job, and the playing is impressive throughout. This is an excellent album, and definitely worth the long wait.