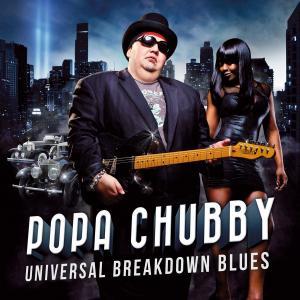 Ted Horowitz has been around a while now, and he has paid his dues. At this point in his career he is compared to Walter Trout, Johnny Winter, Guitar Shorty, Tommy Castro, and Kenny Wayne Shepherd, among others. As Popa Chubby, he is not simply a great guitarist; he is a volcanic explosion of sound that will rain blues and rock down upon you with a vengeance. His sonic wall of sound will surround you, swallow you up whole, and spit you out, completely spent. Fans and devotees worldwide eagerly await his every release. Here, Popa Chubby gives us Universal Blues Breakdown, and it does not disappoint.
Issued on Provogue Records, Universal Blues Breakdown contains 12 tracks and clocks in at a little over 58 minutes of searing guitar bliss. The album is well produced, and has a very good mix, giving the sound a clear, in-your-face immediacy. Very sweet indeed. Although there is a lot to love here, as always, there are cuts that rise above the rest. "The Peoples Blues" is an alluring 12 bar blues with a good vocal, and some seriously scorching guitar. "Rock Me Baby" (yes, it's the one you think it is), is performed a little more aggressively here than most folks are used to. This rendering has a great beat going on, with some fine steady guitar musings, and leads that are quick bursts of focused mayhem. If this doesn't get your heart pumping, seek medical attention.
"69 Dollars" has echoes of Santana throughout, and it is a particularly enjoyable track. "Over The Rainbow" is the best cut on this album; great arrangement, playful, kick-ass guitar lines (including some fine slide work), and even some quoting of the always awesome Ludwig Von Beethoven. This is a superb cut! Another standout is "Goin' Back To Amsterdam," with layers of guitar over a great piano shuffle. The closing track, "Mind Bender," is heavy, chunky, thumpin' goodness, and a guitar feast for the ears.
If you like your blues with a loud, ballsy, rocking, scorching guitar edge, then this is for you. Don't delay; pick this up today!