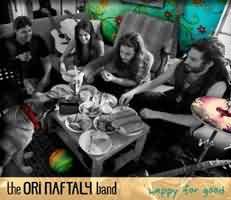 When we think of Blues, we think of Chicago, Memphis, Clarksdale, St. Louis; Israel definitely does not come to mind. The Ori Naftaly Band is out to change that with their new album, Happy For Good. Issued on their own label (The Ori Naftaly Band), the album clocks in at just over 40 minutes and does not disappoint.
The Ori Naftaly Band is Ori Naftaly – guitars, Yam Regev – drums, Eran Szendri – bass, Keyboards – Niv Hovav, and Eleanor Tsaig – vocals. Production by Ori Naftaly is excellent, and the mix by Yaacov Moreno is spot on, giving the music depth, and a rich texture.
Standout tracks on the album include "Set Me Free," which is slow, smooth, delicious, and features a smokey vocal from Eleanor Tsaig. "Envy" begins with a nice bass lead-in, and when the rest of the band kicks in, they transport us back to the '70s for some guitar filled, funky grooves. "Taxi Driver" has a more country flavor, with a fast pace, and some fine guitar picking from Naftaly. "Dreamin', Pleadin', Wonderin'" is a slow, heady blues that will have you woozy with its slow club vibe, and jazzy Stevie Ray Vaughan influenced guitar lines. This is truly a masterful performance! The title cut, "Happy For Good," is a feel good, vibrant piece, that doesn't get lost in pop sound and polish, and the guitars give it a garage jam quality that fits the song perfectly. "I Feel Fine" is what Stevie Ray Vaughan might have sounded like if he had taken a more funk and jazz infused direction. The combination of organ rifts, bass lines, and steady drumming, along with bluesy guitar lines that have a jazzy edge, all topped off with Tsaig's great soulful vocal, take this cut over the top.
If this is what blues is like in Israel, we want more! This is a solid album that is full of texture, soul, and righteous blues. Bring this album home today, throw on a good set of headphones, and get lost in it. You won't regret it.