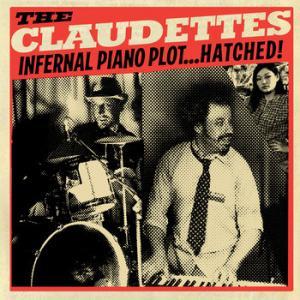 The moment eyes stop on it's artwork, a vibe is created to give the sense that this is no ordinary album. Its cover reminiscent of classic sixties flyers — and everything  from the fonts to the vibrant colors, gives off the modern appeal for today's music audience.
With an album title like Infernal Piano Plot… Hatched!, The Claudettes have definitely hatched something special. A very ambitious project released by Yellow Dog Records, it is a notable release that strays away from a world seemingly populated by the power of the guitar and gives the piano a microphone and says "Here I am world, listen to me!" There's the Black Keys, and then there are these guys showing Dan Auerbach that Johnny Iguana can create a progressive tone all his own without a guitar.
From the moment "Stumblin' Home Satisfied" comes through the speakers, a standard is created, the bar is set high. Listening to "Serenading the Clean-Up Crew" just shows how creative and fun the duo is. Without a vocalist accompaniment, it is not hard to hear what the music is saying; get up, have fun, dance! Having performed an overwhelming amount of shows in their time together, they've found a sound worth a great time. Everything about The Claudette's music will make listeners tap a foot and want to move about to Michael Caskey's drumming.
Johnny Iguana sounds like a saloon pianist from the Wild West brought to the future, his own vaudeville style modernized alongside Caskey's sweet and delectable drumming, blending Blues, Jazz, and a good time, creating an album unlike any other on the market.