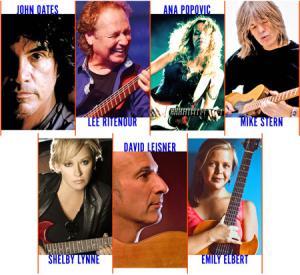 (BIGFORK, MONTANA) – The Crown of the Continent Guitar Foundation announced today the six master guitarists who will be attending the fifth annual Crown Guitar Workshop and Festival as Artists in Residence on August 24-31, 2014 in Bigfork, Montana. The weeklong workshop offers classes in seven guitar genres: jazz, rock, blues, classical, singer/songwriter, acoustic and beginner with some intermediate and advanced classes and combinations of styles. It will be held at the lakeshore resort of Flathead Lake Lodge, in Bigfork. The workshop stands out not only for its stunning location near Glacier National Park in western Montana, but also for the caliber of the teachers involved, personalized learning, music jams, and a collective sharing of passion for guitars and guitar music.
Artists scheduled to appear this summer include Shelby Lynne, American country music singer and songwriter. Her 1999 album I Am Shelby Lynne led to her winning the GRAMMY Award for Best New Artist.
John Oates, iconic singer/songwriter who will be inducted into the Rock and Roll hall of fame in 2014.  A rock, R&B and soul guitarist, songwriter and producer, Oates is best known as half of the GRAMMY-awarded rock and soul duo, Hall and Oates. When John first met Daryl Hall their mutual love for urban rhythm and blues blended with the rural roots of Americana music resulting in 21 albums, ten top hits on the charts and over 20 hits on the top 40 charts.
Ana Popovic, who is described as a triple threat: an excellent singer, guitarist and songwriter. Ana was nominated 'Contemporary Blues Female Artist' of the year, her 5th Blues Music Award nomination.
Lee Ritenour will return for his fifth time to COCGF. A GRAMMY-awarded jazz and jazz-fusion guitarist, Ritenour has been involved with the event since 2010 and says it's the most unique, inspiring workshop he's been involved with.  "It combines great teachers, great students and incredible atmosphere that keeps everyone motivated and creative. There is nothing like this that I know of in the world."
Mike Stern, an alumnus of the band Earth Wind and Fire and a six-time GRAMMY nominee Stern has established himself as one of the premier jazz and jazz-fusion guitarists and composers of his generation.
David Leisner, a classical composer and performer who is lauded by American Record Guide as "Among the finest guitarists of all time." He was awarded top prizes in both the 1975 Toronto and 1981 Geneva International Guitar Competitions. Currently he is co-chair of the guitar department at Manhattan School of Music.
Each Artist in Residence will teach a master class for the Workshop and conduct a public performance at the Crown Guitar Festival during the week. Joining the AIR's to perform will be the young guitar phenom, Emily Elbert, who was awarded COCGF's Chairman's Young Artist Scholarship in 2013.
Complementing these legends will be a stellar professional teaching staff offering daily instruction in seven guitar genres. Courses and instructors this year include: Bret Boyer, singer/songwriter; Mark Dziuba and Jody Fisher teaching intermediate and advanced jazz; James Hogan, rock/fusion; Tobias Hurwitz, rock/blues; Andrew Leonard, classical; Susan Mazer, beginning skills; Dennis McCumber, jam class; Jeff McErlain Intermediate rock/blues; Doug Smith, acoustic fingerstyle; and Matt Smith,The Versatile Guitarist.
An early bird registration discount is offered to participants through March 31, 2014. To see videos about the workshop from the past four years and to register please visit the official website or call the Crown of the Continent Guitar Foundation at 855-855-5900.