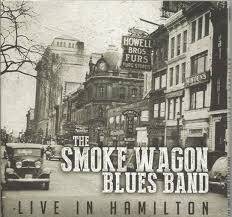 The Smoke Wagon Blues Band are finally receiving their due. Nominated for "Best Blues Artist of The Year" at the 2013 Hamilton Music Awards, and now with their new release, Live In Hamilton doing well, the band are on a roll.
Live In Hamilton, distributed by Indie Pool, is living example of what a first-rate live album can be. Recording a live album is always a tricky proposition. Aside from miking everything to correctly capture the sound of the band, which is difficult in its own right, the really difficult part of any live recording is successfully capturing the personality of the band. The band, engineers, and everyone else involved with this project have succeeded on all counts. The wonderful live sound quality, and excellent, spacious atmospheric mix, only serve to highlight these performances all the more. Personnel are Corey Lueck- vocals and harp, Mike Stubbs – guitar, Nick Succi – piano and organ, Gordon Aeichele – sax, Jason Colavecchia – bass, and Tibor Lukacs on drums.
Live In Hamilton opens with an extended suave version of Bill Withers' "Ain't No Sunshine She's Gone," a meeting of understated jazz and blues that is absolutely delicious! "Josephine" is a soul tinged blues delight with its Delbert McClinton like vocal from Corey Lueck, deep and luxurious guitar, and a back-in-the-day vibe listeners will lose themselves in. "Wrong Side Girl" features some brilliant playing from the band, who impart blues and soul into this shuffle. "Lonesome Whistle Blows" is slow, hard edged, guitar drenched blues, with great piano lines throughout. Everyone really stretches out on "Feeling Alright" (which is listed as "Feeling OF The Witch"). This cut is very reminiscent of Dave Mason's version; breezy, with a jamming piano lead, and nice guitar work. The album closes with a soulful, Stax style version of the Muddy Waters classic "Blow Wind Blow."
Live In Hamilton is a wonderfully decadent way to kill an afternoon with a great cup of coffee, and your guitar in hand, playing along. This is a really solid, honest album. For those who enjoy great live albums, this is a must have.