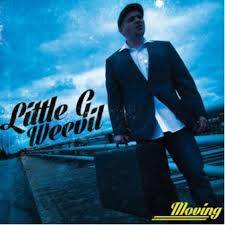 Blues guitarist Little G. Weevil is on a tear these days. He won the Blues Foundation's International Blues Challenge Solo award for 2013. He is nominated for the 2014 Blues Music Award "Acoustic Artist of the Year" for 2014. His latest release, Moving, on the Apic/Vizztone label, is doing extremely well, and it is an acoustic, roots music tour-de-force.
Moving is Weevil's third release. Personnel are Maurice Nazzaro on harp, Dustin Sergant on upright bass, Adam Goodhue on drums, and of course, Weevil on guitars. Danny V. Vinson plays rhythm guitar on track 8, and solo guitar on tracks 3 and 12. Production here is clear, concise, and unadorned. Sound quality is pristine and inviting, and the mix is sparse, but full of depth.
Moving is masterful in its simplicity, and immediacy. The music is uncluttered and striking; the impression it leaves the listener with lingers long after it has stopped. Standout performances include "Mean and Dirty," with its steady beat, rich sound, and delightfully gravelly vocal from Weevil. While listening to this, it is hard to believe that such rich, full sound is achieved with only acoustic instruments. "Boogie Through My Troubles" shines with its majestic picking and sliding. Listeners will be sorely tempted to jump up and shout "Play it man, play it!" "Let Someone Else Do All The Work" is fetching, drawing us in with its addictive rhythm and slide playing. The title track is a lively blues with the whole band playing, again with a rich sound. Nazzaro blows some fine harp, Vinson delivers a lovely solo, and again, Weevil's vocal is perfect here. Everyone really delivers on the album's closer, "Swing In The Middle." If we sat on our porch, friends gathered 'round with our instruments playing swing, this is what we would aspire to sound like. This cut is absolutely sumptuous.
Whatever perspective from which we would choose to appraise this album, whether it be as blues, roots, or just acoustic music, we do not find it lacking; not at all. The material is well written and superbly played. The album is engaging and it ignited our senses. This is definitely an album to be enjoyed through headphones! That way, not a single note will be missed as it whispers by. Treat yourself to Moving soon.