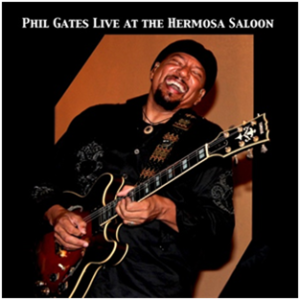 Born in Chicago, and continuing an established residency on the West Coast, Phil Gates has been making great music for a long time now. His music combines elements of funk, Texas swing, blues, soul, and NOLA's musical melting pot into a vital, smooth, and inviting sonic dish, to be enjoyed with a relaxed satisfaction. Phil Gates Live At The Hermosa Saloon, on DCT Productions, is his eighth release to date.
Recorded live at, well, The Hermosa Saloon, the album features Phil Gates on guitars and vocals, Ron Battle thumping the bass, Keith Williams rocking the drums, and Morris Beeks lovingly stroking the ivories. This band is tight! Production is perfect, and that live, spontaneous, spacious sound is maintained. The mix really highlights the nuances of each player's efforts.
Phil Gates Live At The Hermosa Saloon clocks in at just over an hour, allowing the listener plenty of time to get lost in the music. Lot's of good tunes here! Of course, we did have favorites though. The opener, "Addicted To The Blues," features a very catchy guitar riff, a smooth vocal, with Beeks' keyboards lifting the piece as a whole. "Old School" has a mildly funky beat and some winning guitar playing, elevated by the band's tight grooving. This cut also features spacious, unhurried soloing by Gates. Gates and company chose to cover "Summer In The City," doing a magnificent job, playing the cut as a slow, relaxed, slightly jazzy outing, with an old school solo that has beautiful tone. Great job on doing something imaginative with familiar material! "End of Time" is a slightly swinging cut that reminds us of the sparse, stinging Chicago club blues of the early '60s. "Take It Out" is easy going yet catchy, very funky, and has a great '70s vibe to it. We also enjoyed the album's closer, "Get Around To Me," with it's upbeat tempo, almost jazzy tone, and sweet rifting!
Some live albums work, and some don't work at all. Phil Gates Live At The Hermosa Saloon works exceedingly well at conveying the essence of this band performing in a live setting. Spend some time with this album. You will thank yourself later.