World renowned guitarist Gary Hoey is continuing his musical circle of life with the release of Dust and Bones on July 29th. This will be his 20th career album and is a collection of all original blues rock songs with vocals. Now, that may not seem all that out of the ordinary until you realize that the bulk of Hoey's recording career has been guitar instrumentals, beginning with his smash hit cover of Focus', "Hocus Pocus" in 1993.
Most artists would consider their 20th release as a landmark, and Hoey does as well, but for a different reason. He's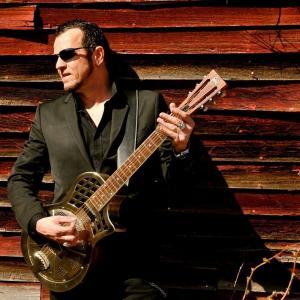 always thought that his guitar ability far outweighed his vocal talents, but in the genre of blues rock, his vocals emerge strong and solid. Joe Satriani even commented to him, upon hearing the new tracks, "Man, I can't believe how far your vocals have come."
In his mid-50s now, Hoey is enjoying the challenges of not only singing more on his recordings, but also penning meaningful lyrics. He considers both to be steps in his personal journey; a journey that he is finding more taxing than he first thought.
When he first began his return to his roots with Deja Blues, three years ago, he felt comfortable in that niche and decided that this was the road he wanted to continue traveling on. With the decision to record Dust and Bones, he began running into obstacles. Two different agents told him they wouldn't "chase the blues" with him, and a new label had to be secured to promote his blues projects the way he felt they should be.
He found his perfect label with Provogue, a member of the Mascot Label Group, whose stable of blues artists includes Blues Hall of Famers, Joe Louis Walker and Robert Cray. He signed a multi-record deal with them and started listening more closely to other artists on the label. Hoey insists that Provogue's artists made his new project better. "I heard all these great musicians and it literally made me go back to this album, and make it a better album. I thought, if I don't make this a great album, I'm not going to stand out. These guys are good."
With management, agent, and label execs all harping on him to finish it already, he stuck to his guns telling them, "Its better to show up late and really be bringing something great than show up late with cold pizza."
For the naysayers that think Hoey is doing what a myriad of other rock stars have done by following a current fad, he says,"I'm doing this because I love it. I'm not doing it because its a trend. I'm not doing it because I think I'm going to put on a suit now. If you see me in a suit on stage its because Robert Johnson wore one, BB King wore one. Its an homage to the music. Its not trying to cash in on something. I've always done what I loved.
"This is where I belong, playing this ferocious blend of blues and rock music. My last album, Deja Blues, proved to myself that I could play authentic blues, and now that I feel more at home there, I felt it was time to mix my favorite guitar styles into something seamless, organic, and powerful."
He continues, "I've played shows with Johnny Winter and Sonny Landreth. One night Johnny said to me, 'Man, you gotta keep the sound alive.' After he (Winter) passed away, I was the first guy to ever play with his band. They had a show near my house, so I showed up with my slide. I'm not trying to replace him by any means, but the band was really hurting and I came down and played with them. I really felt that I was channeling Johnny on this album and worked really hard to pay homage to him."
When asked how his fans are reacting to his decision, he replied, "I have good fans. My fans are good people. We have a lot of audiences that come in and they're just there to have a great time. Its the vibe you put out, that's what comes back."
Hoey is involved in a host of other projects and sidelines as well. In 2012, he produced, wrote for, and played on Lita Ford's album, Living Like a Runaway. She makes a guest appearance on his new release and he will also be producing her upcoming album, as well as a possible combined future tour. He found a couple of up and coming teenage artists in his travels around the country and will be producing their debut releases. He also has a new home studio and will be going into more film and television work.
His absolute favorite thing is to get on stage and play, which is what he'll be doing over the next several months with a nationwide tour that includes the Rock N Roll Fantasy Camp in Los Angeles, and the Blues and Brews Festival in Westford, MA.
With countless irons in the fire, the hottest one could very well be Hoey's return to the music he loved first – the blues.
Confirmed upcoming dates for Hoey include:
6/17     Hermosa Beach, CA             Saint Rocke
6/18     Romona, CA                          Romana Mainstage
6/20     San Diego, CA                      Guitar Workshop Plus
6/25     Lowell, MA                            Lowell Summer Music Series
6/30     San Francisco, CA               Biscuits & Blues
7/01     Seattle, WA                           WAMU Theater (w/ Boston)
7/02     Reno, NV                              RockBar Theater
7/22     Auburn Hills, MI                 Callahan's Music Hall
7/23     St. Charles, IL                       Arcada Theater
7/24     Milwaukee, WI                     Shank Hall
8/04     Los Angeles, CA                   Rock n Roll Fantasy Camp – Vol. 2
8/19     New Hope, PA                      Havana
8/20     Teaneck, NJ                         Mexicali Live
8/21     Westford, MA                       Blues N Brews Festival