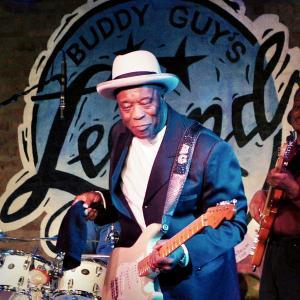 Editor's note: This article originally appeared in our 2014 print edition, under the title 'Buddy (Mother****er) Guy'. It is presented here in celebration of Buddy Guy's 80th birthday today.
The morning after another long tour, Buddy sits and thinks about the meal he's going to cook when he gets home. Missing that down-home Louisiana cooking, he decides he may boil something.
Below his feet is the blues club that bears his name, Buddy Guy's Legends, in a two story building on Wabash Ave that he's proud to own. Just around the corner is the famous Chess Records building, now a museum ran by Willie Dixon's family, where decades ago, Guy witnessed and took part in creating the music that would change the world.
"This morning in nineteen sixty two," Guy says, "we were sitting in the morning drinking and I said, 'man…', complaining about the cold, and one of my old buddies says 'you must like it, you stayed here…'"
This year is an idiosyncratic landmark for Guy. Fifty-seven years have passed since September 25th, 1957, when Buddy Guy rolled into town with little more than the shirt on his back, a guitar in his hand and the dream of just catching a glimpse of the musicians he loved in action. The last fifty-seven years have seen the world, music, and entertainment change dramatically, but Buddy's mission always stays the same. It was a promise to the bluesmen that came before him: keep this thing going.
Guy was born in the Louisiana cotton fields, outside of a tiny rural town nearly touching Mississippi's border. There, the Atchafalaya River forks from the mighty Mississippi River and flows through miles of swampy, humid, unincorporated Cajun country. Surrounded by family in a tiny shack, Louisiana farming was a simpler life. "There wasn't no such thing as air conditioning. We'd have to sit out on the porch at night, hopefully 'til it get a little cool… I  grew  up  without  electricity  man,  I  didn't know what that was until I was about sixteen, seventeen years old!"
"Aah, the good old days, man."
Horns honk and thousands of people anonymously shuffle across busy city streets below his office, into and out of towering Chicago skyscrapers. The seventy-seven-year-old blues man is a long ways from the oceans of cotton and swamps filled with Spanish moss and cypress trees that he once called home.
Buddy's is a success story that people flock to. A young man from the deep south country took the well-worn path to the treacherous big city to learn at the feet of his heroes, and ended up becoming not only a hero himself, but surpassing anybody's wildest dreams — and in the process, he changed popular music. "Those are some of the things that you don't dream about. I still have to slap myself every once in a while and say, 'Did you really go to the White House and play with the President sitting there listening to you?'" Buddy laments about his recent and popular performance as part of the long-running "In Performance at the White House".
"I say, 'Mister President, it's a long ways from picking cotton in a field to picking a guitar in the White House.'"  Now the elder bluesman, arguably the most revered person alive today in the blues, continues to fulfill his promise by using that acclaim to help usher new generations into the music, doing everything he can to help them find success. "It worries me," he says, making a rare break in eye contact to stare through his frost-lined Chicago window, pondering the future of the blues genre in a loud world filled with throwaway trends. Suddenly, hope fills his eyes and he sits up in his chair. "But I know I've found this young kid out of Bedford, Massachusetts named Quinn Sullivan. He's amazing." "Now those are the kids that can hopefully keep this thing alive like me and Muddy had talked about. And you have a few more families that brought their little girls and little guys up and say, 'you exposed him, would you give my little kid a chance?' And I will."
The force that drives Buddy Guy, the promise to keep the music strong and vibrant while honoring those teachers that came before is no small task, yet it's a noble and well-versed blues tradition, and the reason the music still continues to influence generations. However, it's a hard-fought fight that, much like mastering a lifelong craft, is often passed on from one to the next.
"My son, he'll be in here tonight. And I remember once, man, on the fourth of July, they had the records out in front of my house playing, and Michael Jackson and Prince was hot. And every time somebody would go out there and put my record on, my son would go out there and take it off!
"Now if you come down there and catch him, he'll tell you, he almost cries. He says, "You got to give me a guitar." and he got one of my guitars, my polka dot guitar and, man, he came up and you can't tell him to play Michael or Prince now."
The world is a different place now, with a vast and wide array of entertainment options vying ferociously for the attention of the public. Today, it's harder than ever to stand out. "Then, if you went there and played on the Ed Sullivan Show, you was bigger than bubblegum the next week anyways, because television was it then. Now you go to television and every time you turn it on, you see a face, then you might get a little more of them, but now it ain't like it used to be. Now days you have to be seen as much as you can, be talked about as much as you can, and then you maybe can wake this dang blues thing back up like the British did."
"In regards to how far I come, every once in a while I gotta go let down and say, 'Is it better off now than it was that day?' I don't know. Because you didn't have to lock your doors. You couldn't pay nobody to break into your car. You could leave your door open and go shopping, and if your neighbor saw somebody comin' they would stop them. Now, your neighbor would almost help somebody rip you off."
"I was at the service station night before last and I heard the guy asking the attendant how much it was to put air in his tire. If I'd have went to Vegas fifty seven years ago and bet that one day you had to buy air for your tire and drinking water, they'd have looked at me like I was a damn fool. They'd have probably given me a million to one on that bet." 'You know, ain't nothin free no more, man.' "I've got so much memories of the people was in they good health," he laments, brow furrowed looking deep into the past. "The ones who made Chicago what it is today, with the blues – the Muddy Waters, Howlin' Wolf Little Walter, I mean every great blues player you know was livin' here. if he didn't live here, he came here." It's a different climate, and in music, few people alive may know that as well as Buddy Guy. In a now-famous story, Leonard Chess didn't want Buddy playing his wild guitar antics like he did in the clubs, instead opting for straight, down-home blues. But it was those very antics that inspired Jimi Hendrix's fiery guitar trickery, earned the reverence of The Rolling Stones, and ushered in a sonic new era in the guitar and the blues. The Chicago blues men before Buddy, Muddy Waters, Little Walter, electrified the music. Buddy, leading the next generation, took electric to brave and stratospheric new heights. Through the changing world, where people pay for air and drinking water, and through the ebbs and flows of decades of changing musical tastes, Buddy still commits his life to that one simple promise. Guy still talks about those existential conversations with blues men like Muddy and Walter. "We used to sit and talk, just like me and you now, and they would talk about life and death. 'If I go before you I want you to keep this thing going, because we done dedicated our lives to it.' And I dedicated my life to it now, and every night, every morning when I wake up.
"But they used to tell me, 'I'll be lookin' down on you if I go before you do.'  And I look up sometimes and say, 'we talked about this, I hope y'all are lookin' down.' Because I went to places they didn't go, it was like, 'I'm handing this torch to you, Buddy, because I had it and now I want you to take it.'"
The wall behind the bluesman is filled with framed memories, Lightning Hopkins, Guy playing on stage with his son, Eric Clapton and Guy, one a feature on Buddy in Rolling Stone. A picture shows Buddy and Jimmy Page together with elated smiles, across their shoulders rest beautiful gold medals attached to rainbow ribbons — a recent honor from the Kennedy Center to acknowledge a lifetime of influence and achievement. Buddy and his family stand with two U.S. Presidents in others.
The blues has no doubt changed in the last fifty seven years, and the older generation of greats has passed on, leaving their music and stories to be learned from and built upon by the hands of the next. But even in new eras, the very mystery and magic that drives people to the blues is still consistent. The powerful fruits of apprenticeship and eventual mastery endow the blues to grow on fertile ground when other styles waver and fade.
"It's just like an old Chevrolet car," Buddy says, flashing a big, white smile with a twinkle in his eye. "It done changed a lot, but it's still a Ford and it's still a Chevy."