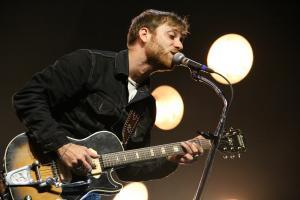 According to the Hollywood Reporter, Black Keys front-man and guitarist Dan Auerbach is being sued. The company producing an upcoming documentary on Howlin' Wolf, Smokestack Lightning Inc., has filed a lawsuit against Auerbach alleging that he violated "a verbal agreement," and he is also accused of conducting "unfair business practices and negligent misrepresentation." The company is seeking $100K in compensation.
The suit alleges that after his initial involvement with the project, Smokestack Lightning: The Legendary Howlin' Wolf, he was approached with an opportunity to oversee the project, having total creative control including directing and producing. As alleged by the suit, Auerbach accepted the opportunity via a verbal agreement. The suit further alleges that he "quickly demanded certain material alterations and vast expansions to the then existing picture." Supposed changes that Auerbach wanted included additional interviews, scene re-shoots, a new writer, and "the adoption and use of an entirely new camera and filming format."
Consequently, Smokestack Lightning Inc. is seeking restitution and damages due to the additional costs that resulted from Auerbach's actions. Subsequently, he has dropped out of the project and has refused to pay damages. Of course, there are always two sides to every story. So far, Auerbach has not commented on any of this.
In any case, with a bit of good luck, the project, Smokestack Lightning: The Legendary Howlin' Wolf will be completed soon.