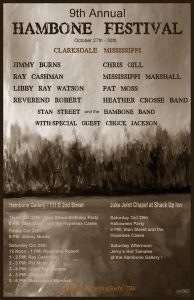 The 9th Annual Hambone Festival has come again to Clarksdale Mississippi, bringing with it the joyful music of local and visiting musicians. Everyone got into the spirit of things last evening with a birthday party for local musician and artist Stan Street, as Street & Hopeless Cases performed at the Hambone Gallery. Street and his wife Dixie opened the Hambone Gallery in 2005, and together, they oversee the gallery and bar.
A highlight of this weekend's festivities will be Dublin, Mississippi native and master guitarist Jimmy Burns, playing at the Hambone Art Gallery at 8 p.m. tonight, with tickets being only $10.
Performers on Saturday, 29 October include Reverend Robert, Ray Cashman, Pat Moss, Libby Ray Watson, Chris Gill, and Mississippi Marshall. There will also be a Halloween Party Saturday evening.
For more information: