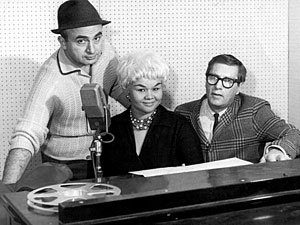 BREAKING – Record executive, producer, and co-founder of Chess Records Phil Chess has died at his home in Tuscon, Arizona. Chess was 95 years old.
The man who along with his brother Leonard, would bring the sound of the blues to millions, was born Fiszel Czyż in 1921 in Poland. In 1928 the family emigrated to the United States, changing their name to Chess. Upon completing his service in the army in 1950, Chess entered into the music arena with his brother Leonard, who had procured an interest in Aristocrat Records. The brothers brought in a third partner, Evelyn Aron, and renamed the label to Chess Records.
As Chess Records, the label had a knack for bringing artist's singles that were considered so-called "race records" to a much broader audience than they would normally be accessible to. Helping them in this endeavor was the Checker Records label they started with the goal in mind of just that; increased airplay for more of their artists. In those days, radio stations often would play only so many records from any particular label.
Leonard and Phil Chess often oversaw production in the studio throughout the 1950s, later bringing in others such as Ralph Bass to oversee gospel efforts and a bit of the blues as well. Of course, in house master composer, arranger, producer, and bass player Willie Dixon contributed mightily in many blues sessions, although, he would not receive credit for his work until years later.
Among the many incredible records the studio released was what some consider the first Rock and Roll record, "Rocket 88" by Jackie Brenston/Ike Turner and his Delta Cats, penned by Ike Turner. This 1951 recording was actually one that resulted from an association with Sam Phillips' Memphis Recording Service. The label gave the world numerous blues icons such as Muddy Waters, Howlin' Wolf, Little Walter, Willie Dixon, Big Walter Horton, Buddy Guy, John Lee Hooker, and the "Father of Rock and Roll" himself, Chuck Berry.
Later, Chess continued with the blues but did more in the gospel, and soul genres. The label continued to produce exquisite blues with artists such as Otis Rush and Koko Taylor, and soul with Etta James, and Solomon Burke.
The work of the early pioneers of blues and soul that the Chess brothers recorded in the 1950s and early 1960s were the very foundations upon which the Parthenon of Rock and Roll was constructed. The Rolling Stones would record their famous instrumental "2120 Michigan Avenue" at the very Chess studio they were paying homage to. This building would be designated a Chicago city landmark in 1990, and now Willie Dixon's Blues Heaven Foundation lives there. Everyone from Eric Clapton, Peter Green, Jeff Beck, Led Zeppelin, and The Beatles, to The Rolling Stones, has recorded versions of those great Chess recordings.

The influence of this one record label on modern music has been profound; stirring souls, moving hearts, and informing minds of four generations of fans and musicians of all genres.
Chess Records was sold to GRT in 1969 for $6.5 million, and Leonard Chess died later that year. In 1972, Phil Chess retired to Arizona. Both brothers were inducted into the Blues Hall of Fame in 1995. In 2013, the brothers were also the recipients of the Recording Academy's Trustees Award.
Currently, the Chess catalogue is owned by Universal Music Group and managed by Geffen Records. Two major films about Chess Records are well known to the public: 2008's star-studded film Cadillac Records, also from 2008, the biopic Who Do You Love?, which looked more closely at the lives of the Chess Brothers themselves.