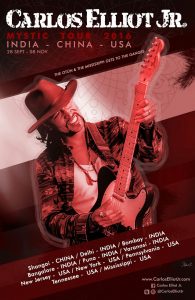 As we first told you in early 2013, Carlos Elliot, Jr., ventured from his hometown of Pereira, Colombia, into the Mississippi Delta a few years ago to learn to play the blues from the originators of the genre. He absorbed the lessons taught him by the likes of R.L. Boyce, T-Model Ford, Big Jack Johnson, Little Joe Ayers, and Robert Bilbo Walker.
Carlos found a musical home at the infamous Big Red's in Clarksdale and joined forces with the house band, The Cornlickers: Bobby Gentilo on guitars and vocals, Tony Ryder on bass, and Dale Wise on drums. Having been the backing band for Big Jack Johnson until his passing in 2011, The Cornlickers bore all of the bona fides Carlos needed to develop his own brand of the blues. They participated in the International Blues Challenge in Memphis in 2014 as the first-ever representative from Colombia.
Carlos and The Cornlickers recently released their second CD, Del Otún & el Mississippi, and at the time of this writing are touring in India after a couple of shows at the House of Blues and Jazz in Shanghai, China. During his world travels, Carlos made some time to talk about his new recording and projects.
Stacy Jeffress for  American Blues Scene: Your work with The Cornlickers from Clarksdale continues, and you have a new CD out with them, Del Otún & el Mississippi. First, tell me a little about your concept for the recording, and why you named it after these two rivers.
I came up with the idea of linking these two worlds together, you know my home town with its Indigenous and African heritage and history where I grew up, and on the other hand the land of North Mississippi that has been my inspiration and strength in my musical career and life.  So the concept of the album links these two lands together: how a bluesman from the Colombian coffee hills plays this rhythmic electric hill country blues, connected to the place where it was born and directly from the hands of those who created and still carry it on.

In the album I tell a story that explains that we ain't that different, actually it is the same story repeated in these two places in the same way.  Slaved people from flat lands like the Delta in crops and farms escaped up north to the hills, and they were helped by Native Americans. They mixed their cultures where the drums and rhythmic patterns got together reviving and mixing ancient traditions, that's hill country blues, or as I call it in my country "Blues de la montaña."  So Otún is the name of the river that brings life to our community in my home town named after local African Americans, and Mississippi is the "great river" as Native Americans named it back in the day, so that's more or less what we talk about in our more recent album.
The title song tells a story about slaves in Colombia and in Mississippi. How did the idea for the song evolve?
Researching in my local native community, I always found similar facts to what I discovered with the hill country blues tradition, so I thought it was a great story to tell.   It simply came out this way. Also, a very well known national magazine in Colombia published and article called "From the Otún to the Mississippi" so I thought that was a perfect name for it.
R.L. Boyce appears on this album. How did you meet him, and how did he become involved with the record?
R.L. Boyce has been a mentor to me.  You know I had the blessing in my life to meet him in a very special time, and it has meant so much to me. His inspiration and knowledge has been unbelievable for me; for that I owe him a lot for my musical career.

I met him a few years before and hung out in town for awhile and thought he was one of the greatest, but it was not until my friend Lightnin' Malcolm took me to his house one time that this great relationship began.  For me he is my link to Fred McDowell, Jessie Mae, R.L. Burnside, Otha Turner and even Muddy Waters; he is actually related to all of them. But beside all of that, he's unique and I have learned a lot from him.

After a tour we did together with the Cornlickers in Mississippi and Pennsylvania, we invited R.L. to be part of the album and brought him to the studio. We had a great time, and all of that was captured on tape in the recording.  Then after releasing the album, we toured in Colombia together and had a once-in-a-lifetime experience.  One very important person that has been part of this is my friend Steve Likens from Memphis who came to Colombia as R.L.'s tour manager.
I really enjoyed the fife and drum track where you get to show off your skills with a bamboo flute, and R.L. plays the drum – "My Mule Brays in Othar's Hood." Tell me about how that song came together.
I've played flute for years and I am an Otha Turner and Jessie Mae Hemphill fan.  A few years ago I realized that the drummer in the recordings I've heard on Jessie's and Otha's albums was R.L. Boyce.   I always thought he was wonderful, and I dreamed of having him play drums for me, so we made this piece at the studio with Dale Wise, the Cornlickers' drummer, too.  It is a fresh and cool tune; I also like it a lot.
That's the second reference to a mule on this CD. Do you have a particular fondness for mules?
I got my own mule at my Aunt Consuelo's farm. My farm is little smaller so I keep Katrina where she can run free like the way she does on the video.  The mule is another relationship in both cultures; we have used them for years as an important part of countryside labors as in Mississippi then.
You made a video for "Katrina the Mule" which features your beautiful wife, Alejandra. That's a really fun video – how did you come up with that idea?

I always thought about doing a song about Katrina, and then after we did the whole album we thought that was a good song for the single so we did it. Actually, we were very literal on the video describing exactly what the lyrics told; it was very simple to create.
In conjunction with the album, you have a 12-minute documentary showing some of the Colombian tour that you, R.L., and The Cornlickers did.  Why was it important for you to make this documentary?
This is a great documentary for me. We got our friend Alejandro Ardila, the artist that made the Katrina video, to follow us during the CD release tour.  It came to be so natural. Then he made some testimonials and created a nice story about what's our music and environment.  Pretty cool that there's a piece where we can show people the way we are and the way our story has been developed. The readers interested on knowing more about us should watch the documentary 'Del Otún & the Mississippi.'

You have been doing a lot of touring at home, here in the U.S., and even in Canada. Who make all of the touring arrangements and venue booking? 
Yes dear Stacy, actually I'm answering this interview on the road from Vrindavan to Varanasi in India after performing in Shanghai, China.  Thanks to God, it's been a very busy season where we've been taking our music to different places around the world.  I have friends in different places that contact venues on my behalf, but most of it I do personally, and it has been working out.
Is there anything else you have done in the last three years or that you have coming up that you'd like to talk about? Are there any funny memories from Juke Joints and Backyard Blues Parties in North Mississippi?
Oh yes, we have had many great times at backyard and house parties, every time is different. One day many friends were coming to hang out and at night we made a big fire at R.L.'s family country house.  Otha Turner's family came with drums, we had tambourine players, me and the Cornlickers were playing all day and night with R.L. and Little Joe Ayers, everybody had a blast.  We made the fire so big we had to move all of our equipment further away before everything melted.  We have in our memory and heart such great experiences.