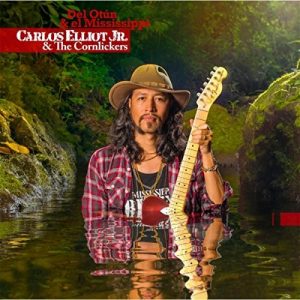 Back in early 2013, American Blues Scene first told our readers about an interesting young Colombian that wanted to learn to play the blues from some of the great Delta blues players here in Mississippi.  So it was that Carlos Elliot Jr. left Pereira, Colombia and eventually found himself teachers in the Mississippi Delta, including T-Model Ford, Big Jack Johnson, Robert Bilbo Walker, Little Joe Ayers, and R.L. Boyce.
After a time, Elliot settled in with the regionally admired house band at Big Red's in Clarksdale, The Cornlickers. The fine players that make up this band are Bobby Gentilo on guitars and vocals, Tony Ryder on bass, and Dale Wise on drums. They are also known throughout the region for being the iconic Big Jack Johnson's backing band until his untimely passing in March of 2011 in Memphis, Tennessee.
We recently had the opportunity to check out the album, Del Otún & El Mississippi by Carlos Elliot Jr. & The Cornlickers. The album serves up ten very tasty tracks, and has a running time of just under 38 minutes. Trust us friends, when the music stops, listeners will be looking for more!
This party starts with "Down In Como," a breezy number with a great juke joint vibe for sure. "Katrina the Mule" is simple, lively, and just an all around finger-snappin' good time. "I Love You With All My Heart" is another simple, straightforward jam, and recalls a stripped down rendition of "Radar Love," by Golden Earring.
Other standout tracks are "Got This Feelin'," a slower outing that really indulges the senses, and "Hoop Of Life," another slow, seriously deep turn. A couple more tracks that we appreciated were "When The Beat Hits You," a jamming song for running down the highway, and the closing song, "Story Of Otún & North Ms," a sheer Friday night juke joint bliss!
Once listeners hit play and grab a seat, it seems as though they've just sat down and now they have to start it up again. In truth, 38 minutes of fun and foot stomping satisfaction have just passed. Like Delta blues? Enjoy hanging in the few juke joints that are left? Pick this up, and be at the juke joint every time this music comes on!
Del Otún & El Mississippi by Carlos Elliot Jr. & The Cornlickers
Self Released
Tracks:     10
Running Time:     37:57