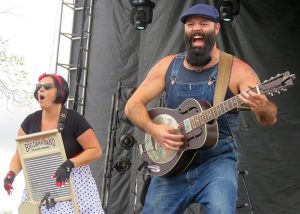 The Roots N Blues N BBQ Festival that took place Sept. 30 – Oct. 2 in Columbia, Missouri, celebrated its 10th anniversary this year. Thousands of music fans turned out at Columbia's Stephens Lake Park to acknowledge the milestone and enjoy shows by the likes of Jason Isbell, Grace Potter, the Avett Brothers and many others. And those fans weren't shy when suppertime rolled around either; BBQ of all sorts was available in abundance and the crowd's taste for pulled pork led one vendor to sell more than six whole hog's worth of meat!
Tasty as the food offerings (Jamaican jerk chicken, gyros, BBQ sandwiches made with donuts!) at the Roots N Blues N BBQ Festival were, the real "meat" of the festival is the music. The festival utilizes two large stages for the musical performances, and there's a bit of an overlap in performance time, but not so much that you couldn't see some of every show if you hopped from stage-to-stage as many festival-goers did. Each show had its highlights, whether you were watching the Columbia-based band The Fried Crawdaddies open the festival, or the pop rock darlings the Avett Brothers close it out.
If you happened to be at the right stage at the right time you could witness things like The Reverend Peyton playing slide on a three-string cigar box guitar, or, catch a rip-roaring musical sermon from soulful Nashville singer Mike Farris. You might also hear amazing jams from mandolin and fiddle master Sam Bush, who led his band through a set that included an (at times barely recognizable) rendition of the old David Essex hit "Rock On." Fans of G. Love found the performer popping up everywhere. Not only did he play his set with Special Sauce, but he also jammed with the Avett Brothers, and tore up the stage in a harmonica duel  with Blues Traveler front man John Popper during a cover of the bouncy Sublime hit "What I Got." Some artists, like Houndmouth and The Reverend Peyton's Big Damn Band, met with fans to sign CDs and pose for photos after their sets. The meet-and-greets took place adjacent to the well-stocked merchandise tent where CDs, vinyl records, T-shirts, baseball caps and other souvenirs were out for sale. So on it went; it was even possible to spot a few band members heading to the BBQ booths!
A family-oriented festival, the Roots N Blues N BBQ Festival also featured a Ferris wheel for the kiddies, as well as an area to shop for crafts. Guests could shop for Missouri-made items, enjoy root beer samples, and marvel at costumed street performers roaming the grounds. There was even a place to have a goofy picture taken, inside the amusingly-named Trailer Swift Photo Booth, which was housed in a small tow-behind camper. New model KIA automobiles were on display, primary sponsor the Missouri Lottery had their hot air balloon floating overhead, and lots of quirky art installations dotted the festival grounds.
Festival organizers made it easy for attendees to get to the big party by utilizing a fleet of school buses that shuttled music lovers in from various stops around Columbia, and those ran on a non-stop basis throughout each day. Other considerations included golf cart rides for folks who needed a little help getting around, and a "sober tent" for designated drivers to relax in. For those who did wish to indulge in adult beverages, an extensive selection of beer, wine, and mixed drinks was available, and those who wanted to stick with the local color could order up a frosty one from Columbia's Logboat Brewery.
This year's 10th anniversary Roots N Blues N BBQ Festival line-up having included stellar acts like the Mavericks, Shovels & Rope, Rayland Baker, the Blind Boys of Alabama, Ben Folds, the Jackie Greene Band and more. While it might seem like festival organizers will have a tough time topping this one, rest assured that the 2017 line-up will be just as exciting. Check here for more information on performers and ticket options.