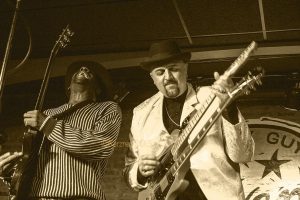 Chicago, IL – Chicago staple and blues icon "Killer" Ray Allison died peacefully in his sleep last evening; he was 60 years old. The phrase "Prince of the City" is so apt when speaking of Allison, as he was loved by everyone. His friends would often remark that no one exhibited more joy during a performance than Allison. He would flash that winning smile of his, and the entire room would glow.
Along with Fred Below and Kenny "Big Eyes" Smith, he is renowned as a pioneering blues drummer having played with Muddy Waters, and working as a brilliant sideman with Buddy Guy, Junior Wells, Koko Taylor, and James Cotton. Other artists he performed with include Paul Butterfield, Joe Cocker, and The Rolling Stones. He would turn down offers from Eric Clapton, Gary Moore, and John Mayall to concentrate on his own music. His influences included Howlin' Wolf, Muddy Waters, Junior Wells, Buddy Guy, Koko Taylor, James Cotton, and many more.
Wanting a change, Allison later taught himself guitar, and like his drumming, he played with verve, savoring every moment. That was what he lived for: performing and sharing his music with audiences whenever and wherever he could. His career spanned more than four decades, and in recent years he had been spreading the blues gospel with his own Killer Ray Allison Band, and as a founding member of The Chicago Blues All Stars.
Allison would also share his immense knowledge of the blues, mentoring musicians that would come from as far away as Japan to study and play with him; and he never charged them a dime. Dan Ivankovich, a.k.a "Chicago Slim," knew Allison since he was 17 years old, and Allison was already playing with Muddy Waters. "In all he did, he was so positive. He was such a gentleman and a role model. He did not drink or use drugs, and he always had such a positive energy. That's why everyone loved him and enjoyed having him around."
Not having Allison around, being able to see that famous smile and hear his music, is going to be devastating to the Chicago music community for a long time to come.
Those wishing to do so can donate to a GoFundMe page set up In Memory of "Killer" Ray to help with upcoming related expenses. Please check back to learn more about services for Allison as that information becomes available.
Facebook  – "Killer" Ray Allison
Facebook  – Ray Allison
Website – "Killer" Ray Allison