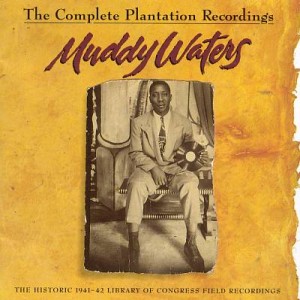 Editors Note: This article originally appeared at ChicagoBlues.com on November 20th, 2014.

There is no blues fan out there that has never heard of McKinley Morganfield, known to the world as Muddy Waters. Often referred to as the "Father of modern Chicago blues," it was Waters who went electric, "plugging in" to be heard over the noise of the audiences in clubs. Sure, there were a few others starting to play electric, but Waters took it "mainstream."
Because Waters is so famous for his electric playing, sometimes it is lost that he was a master of the acoustic guitar as well. In 1941, famed chronicler Alan Lomax arrived in Stoval, Mississippi to record a number of country musicians for the Library of Congress. He returned again in 1942. Of that first session, Waters told later Rolling Stone magazine, "He brought his stuff down and recorded me right in my house, and when he played back the first song I sounded just like anybody's records. Man, you don't know how I felt that Saturday afternoon when I heard that voice and it was my own voice. Later on he sent me two copies of the pressing and a check for twenty bucks, and I carried that record up to the corner and put it on the jukebox. Just played it and played it and said, 'I can do it, I can do it.'"
In time, the two sessions were released as Down On Stovall's Plantation, issued on the Testament record label. These recordings were later re-issued on CD; first as Muddy Waters: The Complete Plantation Recordings. The Historic 1941-42 Library of Congress Field Recordings by Chess Records in 1993, and later still after being re-mastered in 1997.
These precious 22 tracks clock in at just under 62 minutes. The sound quality is good, and the music spills forth in all it's simple, straight forward glory. Interspersed along with the music are interview tracks. One gem from these is when Lomax asks Waters "Is [Son] House a better player than [Robert] Johnson is, ya think?" Waters answers, "I think they're both about equal." There are many more. Just to listen to the two men speak here is like being a fly on the wall; at once excited, scared of being discovered, and at the same time waiting for more.
Then there is the music, which is unbelievable. It is acoustic, honest, simply presented, complexly delivered, and ultimately, starkly beautiful. In this sense, it is much the same as viewing the first blooms of Japanese Cherry blossoms in the spring. Here is Waters as a young man, playing at a level of such beauty and understanding, it boggles the mind.
This music is a boon to those blues fans who yearn for all kinds of blues, whether it's Country blues, Delta blues, or even early Chicago style blues. As a listening experience, these recordings will touch you deeply, and awaken your soul. As a documentation of Waters' brilliant early playing, it is priceless. A copy of this album should be in every blues devotee's collection, and should be experienced frequently. If you don't have it, get it, without delay.