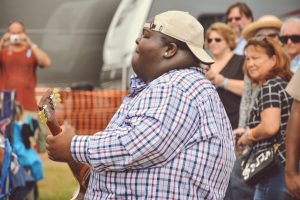 My former preschool teacher was fixing me Bloody Mary's Saturday afternoon at a beverage tent across from the main stage at the Mighty Mississippi Music Festival. For locals, this is the sort of coziness of the event, named American Blues Scene's #1 New Festival in 2015.
I was still on my second when Christone "Kingfish" Ingram took the stage. I had heard people talk about this young man, and after hearing him play, it's easy to see why ABS listed him as one of 18 guitarists under 18 to watch.
Kingfish walked off the stage, joining the crowd on the green, jamming out using a wireless amplifier. It was reminiscent of a recent Buddy Guy performance I saw in which he used the same modern guitar magic to join the crowd for his performance of "Slippin' Out, Slippin' In."
The seventeen-year-old guitarist soon had a crowd circling him as he ripped out a few licks of Seals and Crofts' "Summer Breeze" before launching into a spine-tingling jam-out version of "Star-Spangled Banner." The old folks started asking around for drugs, having been taken back to the legendary performance of our national anthem by Jimi Hendrix at Woodstock.
His style could get rowdy, but he maintained a very cool, smooth blues sound. Kingfish wasn't done showing the crowd that he had been doing his guitar homework. The performance continued into a slow, melodic cover of "Hey Joe." He kicked on his wah-wah peddle for the solo.
By the time he covered "The Thrill Is Gone," it was clear that the Clarksdale native's work has become a continuation of B. B. King's legacy in Delta Blues. He has been quoted about meeting B.B. saying, "No words can describe it." The late King of the Blues knew more than anyone that the guitar can speak to the human spirit in ways that words can not.
As soon as you thought his set couldn't get any better, Kingfish dropped some "Purple Rain" on us in the cool, overcast October afternoon. At one point, I thought he was going for a world record of drawing out an arpeggio arrangement in the solo of Prince's song. If you weren't already a fan, you were by the time he was done.
My cousin and I moseyed over towards the Highway 61 Blues Stage, where Kenny Brown's set was well underway. I was quick to notice the difference in styles from the late R.L. Burnside's guitarist and the younger Kingfish. Kingfish is a young guitar virtuoso who jams out with unstrung noodling while Kenny Brown is a seasoned blues professional who has long played locked-down rhythms to crowds across the United States and abroad. Listening to Kenny, you could've been at a bar on Third Street in Austin, Texas—that sharp, business, dressed-up girls kind of blues music. He covered R. L.'s "Going Down South."
Listening to Kenny's set, I was seated next to my friend and photographer, Charles Sullivan. We were recounting a story that Cedric Burnside had told us earlier that year about being on tour in Australia with R. L. and Kenny many years ago. R.L., whom he calls "Big Daddy," had pulled a knife out on Kenny Brown in the cab on the way back to their hotel. Well, I'm not gonna tell everything I know.
I looked over at Charles, with his cardboard tray of food and asked what he had found from the vendors. "These are barbecue nachos: pulled pork on pork cracklings topped with melted pimiento cheese," he explained. "Get you one of 'em." I reached for one, biting off a perfect blend of sauce, meat, cheese and crunch as fixed by Ubon's of Yazoo City. Now that's got to be the food of the blues!