Chicago, IL – Davy Knowles' new studio album, Three Miles From Avalon entered the Billboard Blues chart at #5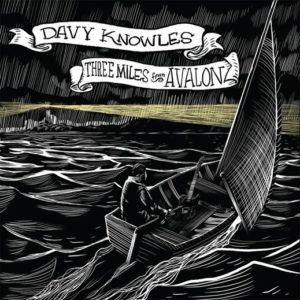 this week.  He joins Joe Bonamassa, the Marcus King Band, David Bromberg and Melissa Etheridge in the top five, with esteemed players Eric Clapton, Bonnie Raitt, Tedeschi Trucks Band and Keb' Mo' rounding out the Top Ten.  On this success, Knowles shares, "I'm overwhelmed by the support for the new record, and so glad to see it being received so well.  A big heartfelt thank you, I'm tremendously grateful and excited!"
Knowles has staged over five hundred appearances in support of his two previous Billboard-charting studio albums, as well as his DVD's and live albums.  The Chicago-based artist began his journey as a young man growing up on the UK's Isle of Man, and his commitment to succeed led to his emigration to America at 19 with his band Back Door Slam. His acclaimed debut album Roll Away, delivered TV appearances on Jimmy Kimmel and Good Morning America fueled by the radio hit "Come Home."  His second studio release, Coming Up For Air was produced by Peter Frampton, yielding the hit singles, "Tear Down The Walls" and "Taste of Danger."  Knowles made appearances at festivals that included Lollapalooza, Bonnaroo and Austin City Limits, headlined the globe, and was invited to tour with Jeff Beck, The Who, Warren Haynes/Gov't Mule, Bonamassa, and Frampton among others. 
Knowles is one of only a small handful of artists who've had their music beamed straight into space for astronauts listening on the International Space Station.  A headline show at the inaugural Garden Party Festival in the Isle of Man was memorably gate-crashed by the same astronauts who had heard him from the ISS. In 2011, Knowles wrote, recorded and released, "Reach Higher," as official anthem for the Youth Commonwealth Games, and in 2014, as ambassador for the Isle of Man's Year of Culture he took part in several key events, which included making an appearance at the International Celtic Festival in Lorient, France.
More recent, roots-driven projects have emerged in the form of the music documentary, Island Bound, produced in association with DAM. Tracking the migration of Celtic and European folk music to America, Canada and Australia, Knowles enlisted the help of musicians such as Richard Thompson and Martin Simpson to explore the origins of bluegrass, folk, country and Americana, the sounds that influenced blues, pop and rock music of today.
Check out this short video on the making of Three Miles From Avalon.
Knowles has plans for a very active touring itinerary in support of the new release.  Confirmed appearances include:
10/28   Minneapolis, MN                                            Famous Dave's
11/03   Lincoln, NE                                                     Zoo Bar
11/04   Des Moines, IA                                               Des Moines Social Club
11/05   Marion, IA                                                       Campbell Steele Gallery
11/10   Kansas City, MO                                            Knuckleheads
11/11   St. Charles, MO                                              Bottleneck Blues Bar
11/12   South Bend, IN                                               Vegetable Buddies
11/15   Bloomington, IN                                             IU Auditorium w/ Buddy Guy
11/17   Appleton, WI                                                   Mill Creek
11/18   Milwaukee, WI                                               Shank Hall
11/19   Bloomington, IL                                             Six Strings
11/25   Bethesda, MD                                                Bethesda Blues & Jazz
1/11     Warrensdale, PA                                            Jergel's
1/12     New York, NY                                                Iridium
1/13     New York, NY                                                Iridium
1/14     Fall River, MA                                               Narrows Center For The Arts
1/15     Pawling, NY                                                   Daryl's House
1/18     Annapolis, MD                                              Ram's Head
1/19     Sellersville, PA                                               Sellersville Theatre
1/20     Shirley, MA                                                    Bull Run
1/21     Portland, ME                                                  One Longfellow Square
1/22     Northampton, MA                                         Iron Horse Music Hall
1/27     Cincinnati, OH                                               Cincy Winter Blues Bash
2/03     Ft. Wayne, IN                                                C2G Music Hall
2/04     Chicago, IL                                                     Shubas Tavern