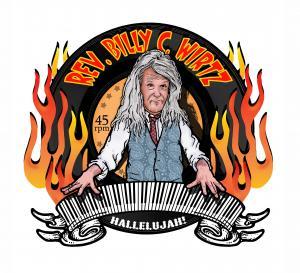 Ocala, FL – You know you're in for a hell of a show when your host starts telling a story about working with Patsy Cline's sidemen in "bucket of blood clubs around the racetrack in Virginia." After listening for a few minutes, several things become clear. First and foremost, the Reverend Billy C. Wirtz can sure as hell make those 88 keys talk. Second, this comedic musician has been around the block, and then some. Third, even though he'll tell you, "I'm a Roots player," he knows his blues and its history, because he has been there in one way or another.
It's a Tuesday night here in Ocala, a small city known for its horse farms, situated almost in the center of the state. We are sitting on the back deck of the Charlie Horse Saloon and Wirtz is relaxed as he starts to preach his sermon. Before the night is through he'll perform songs like "Let The Good Times Roll" and "All Shook Up," sometimes altering the lyrics just a bit for comic effect. At other points during the evening he'll perform some of his original compositions like, "Too Old" and "What I Used to Do All Night," which both talk about what it's like getting old from an amusing, but truthful perspective.
Wirtz was born in Aiken, SC, in September of 1954. When he was nine years old, the family moved to Washington D.C. Eventually, he found a job working in a record store. "Maxie Waxie's opened in the shopping center up the street from us and I just hung out there every day. I was going to the record store, and I spent all my money on records. The weekend of Woodstock, one of the guys in there took off to go to Woodstock and I took his place. They had a big sale that day and the boss was there that day and he said, 'That kid knows what he's doing, hire him.' So, I started and worked in the record stores from the time I was 13 until into my 20s." It's not surprising then that The Reverend currently runs his own vintage records store, PlanetRev Records.
Taking up the keyboards while in high school, Wirtz didn't become serious about the instrument until he was almost ready to graduate college. After attending a Sunnyland Slim performance, Wirtz spoke with the iconic artist and wound up chauffeuring him to his next show. Slim and Wirtz began a friendship that would last a long, long time.
Slim invited the young Wirtz to stay with him if he made it to Chicago. So, naturally, he went to Chicago, where he stayed with the piano master Slim, learning from him, and all the while, visiting venues around the city meeting his childhood heroes. As time moved on, so did Wirtz, playing with and for such bands as Root Boy Slim & The Sex Change Band, Even Johns and The H-Bombs, and the original Nighthawks lineup, including Jimmy Thackery on guitar.
After tiring of the touring and road life, he set out on his own and recorded his first solo album Salvation Through Polyester. Other albums followed including Deep Fried and Sanctified, Backslider's Tractor Pull, Songs of Faith and Inflammation, and more. Upon meeting Bob Doerschuck who was the editor of Keyboard magazine at the time, Wirtz began writing a column called "Road Stories," which portrayed events in a human interest vein. Even today, Wirtz continues to contribute his writing to Allmusic.com, and Blueswax.com, as well as the Charlotte Observer.
With his vast knowledge of blues history, it's only natural that Wirtz participates in the Blues in Schools program talking about the blues in local schools. He also lectures on gospel, R&B, and the Chitlin' Circuit at area colleges and festivals as well. It's just one of the ways he gives back to his community. In addition, he is also on the radio at KPIG.com on Sundays, from Midnight to 2am EST, and WMNF 88.5 (WMNF.org) as Host of the Rhythm Revival Fridays 3-5pm EST.
Wirtz still does tours and road trips, and he continues to make new music. Currently, he has a new CD out on EllerSoul Records titled Full Circle. This new album features his old friends, The Nighthawks, with some tracks recorded in the studio, and some recorded "in a live semi-acoustic setting with a lively audience." He performs a couple of songs off the album that are well received, as well as some classics including "Got My Mojo Workin'" and "How Blue Can You Get."
Here, this night, having had the crowd chuckling at some of his comedy infused blues, as he dives into "Shake Rattle and Roll," he gently reminds them, "It's surprising that this song even made it past the sensors back then." Of course, this has everyone really listening to the lyrics and shaking their heads because when they think about it, they realize the lyrics actually were fairly bold for that time.
Later on over coffee he confesses, "I heard rock and roll music for the first time when I was 10, and right away, it just changed everything. I heard blues for the first time when I was 12. I got the Paul Butterfield Blues Band album, and it changed everything."