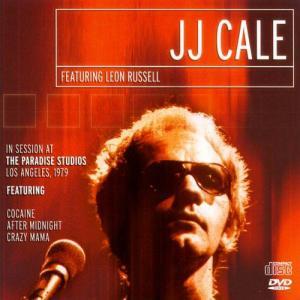 Editor's Note: This week, Throwback Thursday looks back at a very interesting performance when J.J. Cale, Leon Russell, and company got together in Russell's Paradise Studios in June, 1979.
J.J. Cale would have been 78 this week if he were still among us. Alas, he moved on in 2013, but he was kind enough to leave a body of work that never gets old, never becomes tired, and still, always informs. Whether one is a budding composer, or an accomplished musician, Cale's work never fails to yield another lesson, another bit of treasure he put there to be uncovered at just the right time, by the right explorer.
Almost like a fly on the wall, we are witness to the young J.J. Cale and Leon Russell, stretching out among friends in Russell's Paradise Studios in Los Angeles, in June of 1979. In a 21 song set, they are having the time of their lives, and we are left to watch in wonder. Joining Cale and Russell are his wife, Christine Lakeland, along with Marty Green, Nick Rather, Jimmy Karstein, Bill Boatman and Ambrose Campbell.
Starting with what is titled "T-Bone Shuffle," but is disputed in some quarters as "Strolling with Bones," it is quickly apparent precisely how woefully underrated Cale was by the public in general. The tone Cale's fingers are cajoling from the Frankenstein guitar he is playing, along with the lines themselves, is rugged sonic poetry. Throughout the proceedings, everyone is clearly enjoying themselves.
In between "Roll On" and "No Sweat," there's this gem as Russell enlightens Cale about the "real job" he used to have.
Russell:
You know, I used to have a real job.
Cale:
Oh yeah? What was it?
Russell:
I sacked groceries at the Safeway store. I had it three days, my hemorrhoids got so bad, I couldn't even stand up.
There's also banter like Cale saying "I don't know what was worse, your solo, or mine!"
"Don't Cry Sister" here is a total anathema from the version found on Cale's 2006 album, The Road to Escondido where he is joined by his friend, Eric Clapton. The 2:57, performance of "Cocaine" here is a revelation! The solo by Cale is laid back, and easy. This almost reminds one of the generously expressive and simplistic renderings of Lou Reed's "Kicks" and "Ooohhh Baby" on the Coney Island Baby album.
Other memorable moments include Cale explaining the workings of his guitar before easing into "Crazy Mama," and a laid back, almost country "Corine, Corina," infused with gospel flavored piano accents. A special treat is a delicious serving of "After Midnight" as a Tulsa swing; mighty fine indeed. Cale himself is constantly smiling, like a kid in a candy store, about to walk out the door with a pocket full of sweets no one knows he has.
Whether fans pick up a copy of the CD, or one of two different DVD versions available, this is absolutely something every music aficionado should have in their collection. Don't be deprived of this great piece of music history.