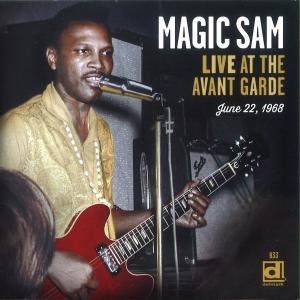 When Samuel Gene Maghett, known as "Magic Sam," died of a heart attack on December 1st, 1969, he was only 32 years old. Think about that for a moment. He was 32 years old. Sure, Hendrix, Joplin, and Morrison were only 27 when they left us, but still, 32 was way too soon.
Maghett was born in Mississippi and grew up listening to Muddy Waters and Little Walter records, teaching himself the guitar. By the time he was 19, he was in Chicago with these masters, whom he had grown up listening to, and learning licks from. Arguably, Otis Rush, Buddy Guy, and he himself gave birth to the "West Side" sound that the city is now so renowned for. They didn't hide the guitars behind the piano and bass, and it was not relegated to a second tier position in their thinking or their playing. No sir; to these artists, the guitar was the protagonist.
Although he continued to play and in fact, toured and recorded, his relatively brief misadventure in the U.S. Army, having been imprisoned six months for desertion, then being dishonorably discharged, had shaken him to his very core, and would have an effect on him throughout the rest of his life.
He had accrued a decent following prior to his military difficulties, and upon his return he continued building on that. He would go on to record one of the seminal blues records of all time, West Side Soul.
It was on this album for the Delmark Records label that Maghett had nailed down and mastered a sound that was loose, with amazing chording, unique staccato picked lead lines, and a percussive edge. Musicians appreciated the fact that that "loose" sound actually required considerable control to pull off without having it unravel. It was expressive, almost primitive in a sense, but it moved people. Of course, his vocals just gave the music that much more strength and movement. He would later record Black Magic, also for Delmark Records, and a solid follow-up to its predecessor.
During his lifetime, Maghett suffered numerous setbacks that contributed to his not becoming as popular as he could have been. Record labels had not signed him when they could have, and should have, including Chess Records. Even though he had been signed by the Cobra Records label, they eventually folded. He also suffered from lack of a good manager for the better part of his career.
Lest we forget, there was no internet then to spread the word as there is now. There was no social media to constantly blast and remind fans of this or that release, or upcoming playdate.
Maghett began to feel as though he was getting his mojo back in 1968 as he recorded his Black Magic album, which he described as "the best album I've heard." The album was released only days before his death.
In August of 1969 Maghett played the Ann Arbor Blues Festival, which also hosted greats B.B. King, Muddy Waters, Howlin' Wolf, Freddie King, T-Bone Walker, Otis Rush, J.B Hutto and the Hawks, and even Son House. This appearance resulted in a huge increase in recognition for Maghett, and also an increase in his bookings.
One of the greatest portraits of Magic Sam was released on Delmark Records in November of 2013 as, Live At The Avant Garde. It was recorded in the summer of 1968 in the Avant Garde, on Milwaukee's east side. This was when he was having a rough time gaining bookings, and he decided he'd look outside Chicago for opportunities. Jim Charne, a high-school student at the time who would later become a recording engineer, recorded the proceedings with a very rudimentary machine. Even so, what he captured were the qualities that made a Magic Sam performance so indescribable, and yet, left such a lasting impression.
Sure, Sam Maghett has been gone these many years now, but what a wealth of music he left for us. He gave us a beauty, feelings and emotional touchstones we didn't even know we had inside us, that his music, his work, was able to bring out in us, even today, and with no less intensity than when we first heard him play.
Perhaps he might have marveled at how popular he has become since his death. One thing is certain though; he was an innovator who blazed a path for others to follow, and his work has more than stood the test of time.