This is the latest installment of our weekly series The Language of the Blues, in which author and rock musician Debra Devi explores the meaning of a word or phrase found in the blues.
Grab a signed copy of Devi's award-winning glossary The Language of the Blues: From Alcorub to Zuzu (Foreword by Dr. John) at Bluescentric.com. Also available as an eBook.
A passway is a path frequented by an intended hoodoo victim, such as the path to the person's doorstep. In hoodoo lore, preading goofer dust or something similarly noxious on the passway places a curse on the person who steps in it. Laying stones down in the passway in a certain configuration is another way to jinx someone. These methods of jinxing someone are called foot track magic.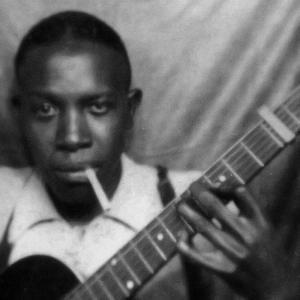 Robert Johnson was referring to one traditional method of working foot track magic in his famous song "Stones in My Passway." This involves laying stones on the ground in a cross pattern, sometimes with a button from the person's clothing in the center of the cross. The stones need to be placed in a passway because the person has to walk over the cross in order to be cursed. This is called "crossing the line."
The spooky effects of being jinxed in this manner–sickness and possibly death–were eloquently described by Johnson in "Stones in My Passway," recorded in Dallas, Texas on June 19th, 1937:
I got stones in my passway and my road seems dark at night
I have pains in my heart, they have taken my appetite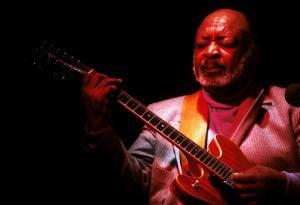 Did Robert Johnson actually believe in hoodoo practices like foot track magic? Probably not, according to his common-law stepson, Robert Jr. Lockwood, another blues legend.
Lockwood was born in 1915 in Turkey Scratch, Arkansas. Johnson began teaching Lockwood to play guitar when the boy was eleven years old, and that's how Lockwood got the nickname "Robert Jr." When I interviewed Lockwood, he said, "Robert lived with my mother [Estella Coleman] common law for about eight, nine years," said "He taught me to play. Can't nobody play his stuff but me."
Lockwood described Johnson as a kind, intelligent and curious man who was always on the lookout for inspiration for his songs, and often found inspiration in hoodoo lore.
"I have to say that he done quite a bit of studying in his life," Lockwood said. "He did a lot of reading and stuff like that. Just about anything you could read, he read it. You read things and after you get through reading about it, you can sing about it."
As for taking hoodoo seriously, Lockwood said he believed that Robert Johnson did not, and neither did he. "Well, it's been around for years, but I don't believe in it," Lockwood declared, adding, "I don't believe nobody can do nothing without my wanting them to do it."

Pick up a signed copy of The Language of the Blues today!
Songs:
"Stones in My Passway"- Robert Johnson
Video:
Robert Johnson – "Rambling on My Mind"
https://youtu.be/cmkkTGYyn5o