This is the latest installment of our weekly series The Language of the Blues, in which author and rock musician Debra Devi explores the meaning of a word or phrase found in the blues.
Grab a signed copy of Devi's entertaining & award-winning glossary The Language of the Blues: From Alcorub to Zuzu (Foreword by Dr. John) at Bluescentric.com. Also available as an eBook.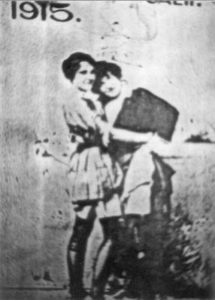 In "The Ins and Outs of My Girl," Bo Carter sang, "she got something like a stingaree" that "ain't in her stocking, man, you know it's just above."
The stingaree is related to the stingray, and has a small dorsal fin, one or two venomous spines on its quick-lashing tail, and a caudal fin shaped like a leaf. That caudal fin is what separates stingarees from stingrays and skates.
The stingaree that appears in blues songs as a metaphor for female genitalia, however, is probably a variation of "stingray." In San Diego, the wharf district is still called the Stingaree, because when San Diego boomed during the Gold Rush of the 1880s, it was said that one could get stung just as badly by the hookers in the district as by the stingrays in Mission Bay.
At the height of San Diego's boom, there were around 350 prostitutes working the Stingaree. The Stingaree's seventy-one saloons boasted such names as Old Tub of Blood and Legal Tender. In 1912, police arrested 138 prostitutes in the first of several Stingaree raids conducted to clean up the district.
"Blind" Willie Reynolds made the connection between the stingaree and prostitution clear in his song about his hooker girlfriend, "Third Street Woman," who had "something that the men call a stingaree":
Mmm, where my Third Street woman gone?
Believe to my soul, she will hustle everywhere but home
Pick up a signed copy of The Language of the Blues today!
Songs
:
"The Ins and Outs of My Girl"- Bo Carter (Armenter Chatmon)
"Stingaree"- Charlie Musselwhite
"Third Street Woman"- "Blind" Willie Reynolds
Video:
Charlie Musselwhite – "Stingaree"