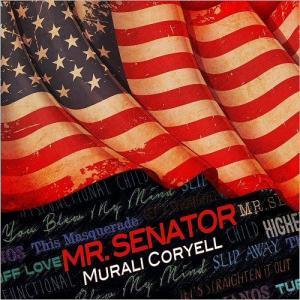 Politics and the blues have gone hand in hand since the very beginning. W.C. Handy's, "Memphis Blues," was originally a campaign song for Memphis mayoral candidate, and future political boss, Edward Crump, in 1909. On the other side of the coin, in the 1950s, J.B. Lenoir penned the controversial, "Eisenhower Blues," which Parrot Records forced him to re-record as "Tax Paying Blues." Now comes contemporary blues artist, Murali Coryell, with his 9th career release, Mr. Senator.
This soul blues paragon comes by his talent naturally. Murali is the grandson of Broadway star, Carol Bruce, and the son of jazz fusion great, Larry Coryell. Growing up as a self-proclaimed, "Dysfunctional Child," he was raised around the likes of Jimi Hendrix, Miles Davis, and Carlos Santana. Before he ever received his BA in Music Theory and Composition from SUNY, New Paltz College, it wasn't uncommon for folks such as George Benson to visit his family's home. Early in his career, he backed Richie Havens, was a member of Duke Robillard's touring band, and was quickly signed as a solo artist resulting in his first album, the Stax/Volt influenced Eyes Wide Open.
Mr. Senator, recorded in Austin, Texas and released October 7th, 2016, on the Shake-It-Sugar label, is a sweet, soul-drenched, 10 track offering. Known for using local session musicians while on tour, for this album Coryell is backed by Ernie Durawa on drums and Chris Alcaraz on bass. Special guests include prolific session bassist, Tony Levin, Grammy-nominated, jazz saxophonist, Bill Evans, and Texas Tornados veteran, Louie Ortega.
An even mix of original compositions and cover songs, the album kicks right off with the title track. Into the social upheaval that seemed to escort every aspect of the 2016 presidential race, Coryell adds his two cents about a particular candidate, without mentioning any names. We hear, loud and clear, both the political message, and the Santana influenced guitar work of Coryell, with Ortega's second guitar blending in like salt on the rim of a margarita.
"Dysfunctional Child," Coryell's autobiographical track, pulls no punches in describing his painful upbringing. His warts and all descriptions really hit home, as does Coryell's eventual redemption.
Murali really brings the goods with, "This Masquerade." Written by Leon Russell, and made famous by George Benson (both mentors to Coryell), the guitar work is jazzy and precise, but its Coryell's voice that really stands out. Although his vocals can't be described as powerful, this moaning, heart-wrenching rendition had us hanging on every well known lyric.
His cover of the Stevie Wonder hit, "Higher Ground," is a drum heavy rendition, performed in an almost country style. At first listen, we were taken a bit aback, but after a couple more spins, like a favorite pair of jeans, it fit just right.
Running the gamut on this album, Coryell ends it with his first career recording in Spanish. The final cut, "Tejanos," is legit. Back with some nice, complimentary guitar work, is Ortega. We can hear this one packing dance floors from El Paso to Houston.
Trying to find a favorite on this one was difficult. Not because there aren't several to choose from, but because they're all so good in their unique and individual ways. From a blues perspective, we're going with, "Slip Away." Zac Harmon suggested that Coryell record this track, and we're glad he did. As far as originals go, "My Pedal Board," is both humorous and truthful, with a nice Gospel flavor. It will strike a chord with any traveling musician, and with any luck Murali will, indeed, start his own airline. That would be fine by us, as long as it doesn't take time away from his playing.
Murali Coryell has, no doubt, matured musically in the 20 plus years since his first album release. We're glad that the soul of the man is firmly intact, and we're anxiously awaiting what he has in store for us next.
Artist: Murali Coryell
Title: Mr. Senator
Label: Shake-It-Sugar Records
Release: October 7th, 2016
Running Time: 44:43
Murali Coryell