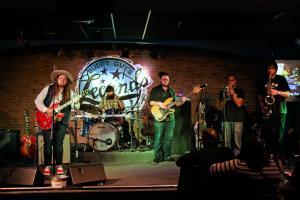 Chicago, IL – Buddy Guy's Legends wasn't packed to the rafters, but for a Wednesday night, it wasn't a bad crowd; not at all. This night was a wee bit special to the assembled fans though because a bright new light was fixin' to shine here, bringing with it a welcome excitement. While the Marcus King Band has been on the scene for a bit, this new incarnation of the band is stirring things up! To quote the late great Ronnie Van Zant, they are "Hotter than a fox in a forest fire!"
The evening began with Anthony Moser, Director of Online Sales & Social Media for the club, said a few words and introduced Wayne Baker Brooks who spoke about the recent effort of raising funds for prostate cancer for PCa Blue Inc. Buddy Guy's brother Phil, a monster guitarist and beautiful human being was taken by prostate cancer in 2008.
The many efforts to support this fine organization include the Sons & Daughters of the Blues Review happening this year and hosted by the City Winery in their five locations. This year will also witness "The Buddy Guy Blues Tour for Prostate Cancer" with Buddy performing with blues masters, daughters and sons of blues legends, and local blues musicians in cities across the country to raise awareness and present information to men regarding this disease and their options.
This night, however, Mr. Brooks announced the winner of the signed by Buddy Guy polka-dot guitar raffled off to raise money for PCa Blue Inc. Streams raised $30K and another $8K was raised online.
After this was squared way, it wasn't long before the MKB was coming onstage. Initially, there was a bit of trouble getting Marcus' guitar into the mix so it could be heard. That issue was soon resolved, and from that point, it was on! The band opened with a rousing rendition of "Five Long Years" that had the hairs on the back of our necks standing at attention.
Over the course of a rip-roaring and inspired almost two-hour set there were several standout moments. The Blind Faith classic "Had to Cry Today" was mesmerizing, with the horn section lifting the piece with their funky edge, and guitar solos that were from a place deep inside, and well spoken. "Dyin'," which King has been fortunate enough to have once played on Duane Allman's Gold Top Les Paul, was a beautiful performance with echoes of George Benson. Another highlight of the set was Justin Johnson's vocals and trumpet solo on "On Your Way Down." In fact, the entire band raised up for this performance with Stephen Campbell rocking the bass, and the horn section seriously swinging!
Of course, the band gave us other favorites including "Radio Soldier," "Slip Back," "Hot 'Lanta," and "Self-Hatred." The encore performance was "Can't Take It," with a solo that was a meeting of Marcus King, Wes Montgomery, and John Scofield.
What is so amazing with King's playing is that we can hear the Warren Haynes and Derek Trucks influences, and yet, he still has his singular phrasing, timbre, tone, and touch. It's undeniably expressive, and still ultimately all his own. The rest of the band is pretty exceptional as well.
We can't wait to see these cats again. Anyone that has not seen the Marcus King Band yet should put them on their "To Do" list immediately.