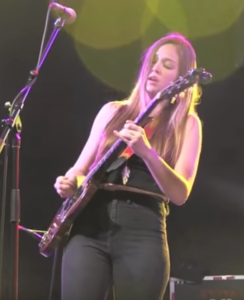 You may know Heather Gillis from the Freight Train Band where she plies her trade playing guitar and singing. More than that, she proves to be the perfect touch to the band with her stage presence, energy, and tremendous talent. Not to mention the culminating effect of her third part in the guitar harmony.
Perhaps you're also familiar with the Heather Gillis Band, which features elements of rock, soul, blues, and even a little jazz. I recently had the pleasure of interviewing the versatile, self-taught talent. Heather opened up about long practice hours, her mentor-student relationship with Butch Trucks, and the virtues of musical chemistry.
Lauren Leadingham for American Blues Scene:
You seem like a natural on stage. Can you tell me where you got your start as a musician? Which instrument was your first love?
Heather Gillis:
I don't really come from a super musical family or household, but when I was a freshman in high school, about seven years ago, I got into guitar a little bit — messing around with it. I saw a movie called It Might Get Loud. It had Jimmy Page, The Edge, and Jack White. And that was kind of the first time I was like, 'Whoa. What's happening?'

I wasn't really deep into music; I didn't really know what blues music was. I didn't know really any of it. I was just kind of playing pop stuff and whatever I could get my hands on with the guitar. I saw that, and I saw Jack White in it. I went down that rabbit hole for a while and dove into what he was doing. And he was really into Robert Johnson. He took me from knowing absolutely nothing about blues music to listening to Robert Johnson, "Blind Willie" McTell, Charley Patton, and some of the really deep stuff. And I was like, 'Wow. This is real. This is deep.' And that really, really sunk in with me.

From that, I kind of just started working my way up through the years chronologically. So, that was like my 'wow' moment. That was my freshman year in high school, I think. And then after that, it was like, 'lock yourself in your bedroom' for eight hours practicing every day, you know, and trying to dig up everything you could find. That was when I fell in love with music, guitar, blues, and American roots music.
That being said, my next question is: Would you say that blues is the genre that got you into music decisively?
100 percent. When I first started playing guitar, I started originally playing acoustic in my church. You know, I was playing the praise music and I was playing mainstream stuff that I could play along with, but I never really got into the guitar.

I was playing around here and there and then I'd move on and go play sports and do that whole thing. But whenever I heard some of those deep cuts, it was like, 'wow.' It hit me in a totally different way; I realized the intensity and the realness that music could have and how powerful it could be. That completely changed it for me.
Butch Trucks also interviewed with ABS this past January and had great things to say about you. He remarked proudly on both your demure demeanor as a guitarist and your intuitive talent, mentioning that your third part in the guitar harmony affords the band the necessary fuller sound. Can you possibly describe what it's like to have the role of adding a third part in the harmony, especially on the old Allman Brothers tunes?
Yeah. So, I met Butch in Tallahassee about two years ago at the Bradfordville Blues Club, which is a great blues club in Tallahassee, FL that I used to play at — I still play at — with my band. He was coming through town, and they called me to kind of be part of the house band. So, that's how we met. He invited me to a couple shows the next year while he was forming the Freight Train Band and auditioning some other guitar players and seeing what worked.

I would just come in and do a special guest thing. Well, after the first tour I did — and I kind of just did a special guest thing — I started working out some parts with Vaylor. We started working on that third harmony. And we were like, 'We got three good guitar players. Let's try to make something cool.' Vaylor is just a genius in guitar, music, and theory. He wrote some extra harmonies.

And then after Butch heard that, he was like, 'Alright. You're in. You're in the band.' I was like, 'Ok. Cool.' And then after that there were a couple tours here and there and a couple different configurations of the band on a couple of different runs. But yeah, the three-part harmony was cool. And you know, Butch really, really dug it. It was cool.
Yeah, he did. So, it must be fun playing off those other guitarists. Do you find your musical chemistry gets better with every performance?
Oh, 100 percent. I was a big fan of Damon. When I first started playing music — I grew up in the Tampa scene — and Damon was one of the first guys I was like, 'Holy cow. That's what I want to do. If I play guitar, I want to sound like that.' He's killer. So, being able to work with him and be in the band with him and just pick his brain and be like, 'Hey. Show me what you just did.' You know?
Yeah, it's like a dream job.
Right! Yeah, it was great. I would plop down next to Vaylor and be like, 'Teach me something.' He would show me an idea or give me a different concept or a lesson in theory. To be surrounded by such character — not only amazing musicians, but they're all very character musicians. They have their own sound; they have their own style. When Damon's playing, you know it's Damon. When Vaylor's playing, you know it's Vaylor. When Bruce is playing… You know? It's like they all have such unique identities. Being around that was also really cool.
Awesome. I see that you and the Freight Train Band are slated to play at the classic Wanee Festival this April 19th?
Yeah. So, Wanee — we were booked on it with Butch and the Freight Train Band. And after he passed — you know, Wanee was Butch's idea. That was his baby. He was like, 'Why don't we put together an amazing festival and hire all of our friends?' And that was kind of the beginning of Wanee. He grew up in North Florida in Jacksonville and spent a lot of time in Tallahassee. The Spirit of the Suwannee is a beautiful park right in the middle, and he just spent some time there and knew it was a really magical place.
Well, I understand this will be your first show as a band sans Butch. How are you feeling about that?
It's going to be hard. We played at — he had a memorial service last weekend and we played together at that; we did a couple songs. It's going to be emotional. But at the same time, some time has passed and you get a little stronger each time.

Whenever I first started playing out afterwards, it was really difficult. It's a weird mixture of grief and sadness, but also comforting to know it's going to be alright. And knowing that he — he taught me so much. I mean, he really made me fall in love with music and totally changed my perspective of music and how to play music and how to play live and how to just be completely fearless when it comes to live music and just to follow wherever the music takes you.

And I'd never really done that before; I just kind of had my structured show. But if he hears you going somewhere, he's going to go there. In the short time I knew him, he taught me so much. So, it's almost comforting and empowering to know he left you this, now go and play and take what he taught you and teach other people.
Well, he sounds like a great mentor on top of other things.
Oh, yeah. He was a phenomenal mentor. That's what he did; he was a teacher. I was really young in my music career when he kind of took me under his wing. Whenever I got that gig, I was like, 'Oh, man!' I spent a bunch of time in the practice room trying to get up to par for that.

He saw a lot of potential in a lot of different people. He would hold these camps in New York, the Roots Rock camp. And that was solely because he loved teaching people, whether it was about music, whether it was about World of Warcraft, or whatever.

He just loved teaching people; he was so smart. He just wanted to have intelligent conversations that were empowering and helped better people and the world. He was a really big proponent of that.
Can we fans excitedly anticipate some more solo albums or side projects from you?
Definitely. I'm in a transitional period right now. I'm just trying to get back on my feet as far as that goes. I'm working on a new album right now; I got a bunch of stuff ready for that. I'm working with a couple different people out of Atlanta, trying to get things situated again and definitely working on a new album.
Oh, that's great. So, that's what's next for Heather Gillis?
Yeah, just keeping every door open. Whenever I met Butch, I wasn't expecting that. But I'm trying to keep every door open and work with as many good musicians as I can. I'm at Jacksonville right now; played at a festival yesterday with some really great artists. Just trying to meet different people and stay busy and play music.
That's what he would want.
100 percent.
So, what can fans look forward to in the Wanee performance?
Well, Luther and Cody Dickinson from the North Mississippi Allstars are going to be there. Those guys are great, and they actually were part of the Roots Rock camp in New York. That was Butch's pride and joy. They and Butch were the original founders. Butch really dug what they did and approached them and Oteil and a couple other people to be the original core group that started that.

So, they had a really special bond over that. If you're going to share a stage with someone and look back and see somebody in that position, it's really good to know that it's such an amazing musician and it's somebody that comes from the same family. Like Luther and Cody. I'm a big fan of theirs and they're just great people.
It sounds like a good first show back.
Oh, it'll be good. Yeah, definitely. We're going to play some Allman tunes. Butch always said he didn't want the Freight Train Band to be an Allman Brothers cover band, so we have some original tunes we did and we have some cover tunes. I'm sure we'll mix it up and throw in a couple things here and there, but it's going to be a fun jam either way.