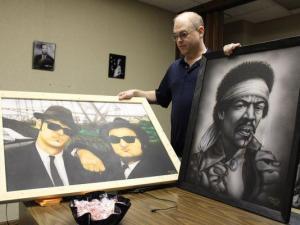 Marion, OH (February 27, 2017) – On February 23rd, members of WDIF-LP, a low-power, non-profit radio station in Marion, Ohio, were invited out to the Marion Correctional Institution for a special blues concert put on by the inmates in their gymnasium. During the show, four large portraits of blues legends hand-painted by Willie Hightower, an inmate at MCI, were given to WDIF-LP for the purpose of auctioning to raise money for the station and its charitable causes.
Station manager Spencer Phelps was contacted back in August 2016 by Sgt. John Ruggles because he wanted to let the station know that they had a lot of fans in the staff and general population at MCI since the station had changed to an all-blues format that April. WDIF-LP is currently the only 24/7 blues music radio station in Ohio. Sgt. Ruggles invited Spencer out to tour the facility and meet some of the fans. "When I was told we had a huge following out at MCI, I was delightfully surprised and humbled. Then when I got to tour the facility with Sgt. Ruggles and see all of the amazing programs that inmates can get into, I was just blown away. There are tons of skill-building programs, they put on plays and concerts, the list goes on. I had no idea, and I'm glad I was given the opportunity to learn about everything going on at MCI," Spencer said.
Fast forward to this February, WDIF-LP was then invited out for a blues concert put together by inmate Willie Hightower. "On top of being an amazing artist, Willie can play! He played guitar with his teeth at one point, played behind his back, it was amazing," said Jordan Starr, co-host of Second Shift, WDIF's live afternoon show, who was also in attendance. "We were just speechless when he brought the portraits out."
"It was such an inspiring experience," said Mr. Phelps. "Everyone there was amazing and just happy to see us and talk with us, and we were just happy that this station was bringing a little light to their lives."
WDIF-LP plans to auction off the paintings during their live blues concert series this May at the spacious Nathan's Barbershop in downtown Marion. The paintings are currently on display at their downtown studios where anyone is welcome to stop by and check them out. WDIF-LP plans on using the money generated from this auction to "keep the lights on" and to fund their charitable initiative called "The Blues Crew" where the station provides free musical instrument rentals to children who reside in Marion County.
For more information, contact station manager Spencer Phelps at 740-244-9836 or visit their website.