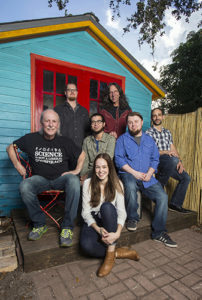 Editor's Note: This conversation with Butch Trucks is one of the last interviews he gave before his passing. As readers will discover, he was enjoying new projects, mentoring his bandmates, and looking forward to the future. He also spoke about why the Allman Brothers' music was so important, and so beloved.

For Allman Brothers fans, Butch Trucks is a household name. Trucks was a founding member of the band in 1969 along with Duane and Gregg Allman, Dickey Betts, Berry Oakley, Jai Johanny Johanson. The double helping of drums the band brought was an integral part of their sound, with Trucks providing the steady, powerful rock beat and Jaimoe providing the jazz-inflected point of view. It worked perfectly for the 45 years the Allman Brothers Band was a band.
Not one to sit around for too long, Trucks has been working with two projects of late, Butch Trucks and the Freight Train Band, and Les Brers, now known as The Brothers. Both are killer groups that embody the principles of harmony and improvisation that were they heart of the ABB's joy and appeal. Trucks is also the uncle to guitarist Derck Trucks of the Tedeschi Trucks Band, and Derek's younger brother Duane Trucks, who is drumming for Widespread Panic and Hard Working Americans. As a member of the ABB, Trucks was inducted into the Rock and Roll Hall of Fame in 1995.
Never a bashful individual, Trucks is not afraid to express an opinion or just say what he feels needs said. American Blues Scene was elated to be able to speak with this pillar of American Southern rock recently.
We wanted to ask you about your two groups. Let's start with Freight Train first. You've got a lot of talent there!
Well yeah, that was the whole point. I mean, we played that Allman Brothers show in October 2014. My wife and I pretty much spent most of 2015 in France. We had a year's visa and it was just great. I planted a garden, and then after a while, I just kind of got itchy, 'I gotta play, I gotta play. I'm not finished yet.'

When we split up the Allman Brothers, it wasn't because people weren't coming; they were coming as strong as they had in 25 years, and they were coming three generations, all the way from 14 to 90. Those younger kids were just getting turned on to what the Allman Brothers were doing, and then all of a sudden, it was gone. Gregg is out doing what he's always wanted to do.

Gregg almost quit the band the second day that he showed up in Jacksonville because of what we did to "Whipping Post." He wrote "Whipping Post" as a slow ballad. Obviously, the "Whipping Post" people know is not a slow ballad. We took that thing and did what we did to it, we went back and he was packing up his suitcase, and Duane said, 'What the hell are you doing?' and he said, 'I'm going back to LA. I'm not gonna have you guys ruining my music like that!' And Duane just told him, 'You sit your sorry ass down. You were on the verge of suicide when I called you. If you are very lucky, you hang around and we're gonna make you a star.' And that's exactly what we did!
Yes, there was always a lot of, "social interaction" in that band!
Of course. The one thing that Duane did was – every one of us came from a different background, but we all had some part of our music in common. The reason Jaimoe and I worked so well is we both started as rudimentary drummers in high school. Then I went off to play straight ahead rock and roll patterns, and Jaimoe just dove into jazz. So when you put the two of us together, I'm playing on the beat, downbeat stuff, and he's playing syncopated jazz licks, so we don't get in each other's way. He's the only other drummer I've played with, that I could actually play with.

Dicky came from a country background. [Berry] Oakley and Gregg and Duane mostly from blues, and rhythm and blues. I was trained classically, then got into a folk rock band, doing the Byrds, Dylan, and stuff like that.

And Duane was smart enough to know that you get six really good guys coming from six different directions, and you mix it all together and let everyone have their own voice. Duane never once, I never recall him, not one time, trying to tell anybody what to play. He was the leader of the band as far as dealing with management and that kind of thing, but when it came time to play music, it was a group of equals.

So, anyway, Gregg is out doing what he always wanted to do. Derek and Susan are doing what they're doing, which I think is Delany and Bonnie, fifty years later with a much better guitar player. Warren Haynes is doing what he's always done, which is everything!

But nobody is out there, picking up where the Allman Brothers left off. I decided that I would do that. So I put together the Freight Train Band, and found people that grew up listening to the Allman Brothers and had a love for and were capable of actually playing it. The result is the Freight Train Band.
For the folks at home who don't know, tell us about the band.
Actually, there's three generations in the band. Got me and Bruce Katz, are the old guys. The middle aged guys are Damon Fowler, great guitar player, blues singer, and writer, and Chris Vitterello, who's been playing guitar with Bruce Katz for a long time. Then, percussionist is Garret Dawson, who we just added not long ago, and me and him are having a ball playing together. Matt Walker is the bass player, and our third guitar player is a twenty two year old college senior from Florida State University, my old Alma Mater, Heather Gillis.

She started watching this other band that I'm in, Les Brers, watching Jack Pearson and Pat Bergeson. They don't play solos. One of them will be jamming, and the other one will hear something that triggers, and he'll step in, and then they start trading off of each other. Then they are playing with each other, and in and around each other, intertwined. Heather started watching that and going, 'I'm not quite as good a guitar player a Damon and Chris…'

She's still got a good ten, fifteen years experience to catch up with them. she's doing it, learning very fast, and getting better and better every year. What she does is adds that third harmony part when we're doing thing like Elizabeth Reed, or any of the old Allman Brothers tunes that have two guitar parts, she adds a third part. So, we have the full triad, so those songs sound much fuller. plus, she stands in the middle of Chris and Damon, and if she hears one of them doing something, she'll step in, start playing with them and then get the three of them to start jamming with each other. Instead of solos, you have a guitar section, and they're playing together, with each other, answering each other, and every night we are going to new, different places. like the Allman Brothers did, '69 through the end of '71. That's the way we did until Duane died.
You have some touring coming up?
We are doing a Freight Train tour, right after Christmas, and that goes to the middle of January. Then we are off for a little while, and then there's a Les Brers tour being put together, that's built around the Wanee Festival. Also, the Freight Train is going to be playing Wanee too, so, two bands there. Hopefully, people won't mind hearing "Whipping Post" twice, 'cause they're gonna hear it.
Well, two different versions.
Oh, two totally different versions!
Since you'll be on the road with your new band, actually both of them, are you planning a live DVD or album perhaps?
Yeah… I keep wondering, 'Why can't we do what we did with the Allman Brothers?' We were all in our early twenties, young guys, footloose and fancy free. I was married, but I shouldn't have been; I didn't act like it. We just lived together, 24/7. If we weren't playing music, we were practicing, writing songs. Every once in a while we'd take a break and read a book or get high, or get laid, or something, not always in that order, but we were together, all the damn time!

Our entire lives was the band we were in. It's probably the biggest reason my first marriage didn't last that long. All of a sudden, a band took over and I didn't… I just… I can't help it. It's just too intense, just too incredible, and I should have never been married at that age anyway. But I got two beautiful children out of it, and we went on.

Anyway, we can't do that anymore, ya know? I mean, everybody but Heather is grown up, is working with other bands. many are married, and we just can't stop doing everything and just write and write and write. It kind of makes it difficult, if not impossible to come up with something brand new, like we did with the Allman Brothers.

So, what we're doing is taking what the Allman Brothers did, and doing it our way, and trying to make it better and never being afraid to just dive off the cliff and see where you land, you know? That's what it was all about, until Duane died. With the Allman Brothers, you just never knew what was gonna happen.

That's what I been trying to instill, and have instilled into the Freight Train, and that's what's also in Les Brers. If there's any other musican I know of that's loose, and is ready to do everything different, it's Jack Pearson. I think Jack's the best guitar player alive right now. I really do; he's just amazing! We were in rehearsl and I was joking around with him and I said, 'You didn't play it that way last time' and he said, 'Yeah, and I won't play it that way next time either.' And that's what I want to hear.
Please tell the folks at home who is in Les Brers.
First, there's the rhythm section of the final Allman Brothers: Me, Jaimoe, Marc Quinones [percussion], Oteil Burbridge [bass]. Then Jack Pearson [guitar], who played in the Allman Brothers for about two years, and the other guitar player is Pat Bergeson. Our singer is Lamar Williams Jr., and the keyboard player is Bruce Katz.

I'm the one that came up with the title for that song on Eat a Peach in A minor, so I grabbed that name. But now, I am getting a lot of pushback because people are saying, especially with the young kids, they can't make any sense out of it. So, we are changing this, and take that little logo that you've seen that says 'Les Brers,' and we are gonna minimize that, and we are gonna call ourselves 'The Brothers.'
I have never seen any of y'all answer these two questions: What is your best memory as a member of the ABB? Also: What do you personally think is the legacy of the ABB?
The best memories? That just depends on what subject we're talking about. As long as we are talking about music, we'll focus on music. The sex and drugs were all a part of it too, and some of that got really good, but, some of it wasn't so good. Anyway, the music…

The night before the closing of the Fillmore. We went onstage at one o'clock, played like a two and a half, three hour set. We came back out and the vibe from the audience was just overwhelming. I was sitting up crying. This was really the last night of Fillmore East because the next night was about special guests, record company people, free booze, and by the time we got on stage at three o'clock in the morning, everybody was passed out, drunk.

The night before, we went on at one o'clock, came back out after a couple, three hours, and we started playing 'Mountain Jam,' and we played until seven thirty in the morning. The ironic thing was, the recording truck was outside but it wasn't hooked up, it was there for the next night; the closing night. I'm kind of glad that it wasn't because that is one night… 'cause you can pretty much find some kind of recording of pretty much every show we ever played, but I have never ever ever heard a recording of that night. And, I'm kind of glad. There is no way that the reality could live up to the memory of what I have, what happened that night. When we finished playing, there was no applause. There was total silence.

It's the only time I've ever finished playing a concert and there was total silence, and it was overwhelming. It was 'Oh-my-fucking-god,' and I looked out at the crowd and they all had big smiles on their faces. Somebody got up and opened the doors and the Sun came pouring in and then this New York crowd just got up, and quietly started leaving. They were so stunned that they couldn't even talk. I remember Duane walking in front of me saying, 'Damn, it's like being in church,' and I'm just drained.

It was one of those nights where no matter what I did, two or three of the guys were already there. The communication that night was absolutely as good as it gets. It's what you want to do with music when you really really… when everything is really clicking and there's no tomorrow and there's no yesterday. You're so in the moment; you're not thinking; everything is just flowing, and you can't make a mistake. You can't. Whatever you play, it's right.
Those moments are rare indeed!
The next night, I showed up for the closing night, and I had never met Bill Graham before. He was always this guy that was on the other side of the room yelling at somebody that screwed up the night before. Bill ran a very tight ship. If you messed up, then you were gonna get it. So, I was very much intimidated by Bill Graham.

I walked on the stage and he was on the other side and he saw me and he ran across the stage, grabbed me around the neck and started squeezing me. Bill's a big man and I mean, he was hurting my neck! He said, 'Thank you. Thank you. Thank you. last night made all these years of this bullshit that I've had to put up with worthwhile. He talked and talked for a bit, and the last thing he said, I will never forget. He said, 'If I had had my way, when you guys finished up this morning, I would been sealed up in my bubble and gone off to wherever I'm going.'

If you ever heard the recording of the final night: Bill Graham was never known for giving a big introduction. Closing night, he got up there and he talked for a couple of minutes about us. He said, 'Last night, I was lucky enough to be here to hear one of the greatest concerts I've ever heard in my life.' Then he talked and talked about how we played 'till seven thirty in the morning. Then he finished by saying, 'And we're gonna finish this all off with the best of them all, the Allman Brothers Band.

I can't think of anything better than that. What was the other question?
What do you personally think is the legacy of the ABB?
What I am most proud of, is what we did to… We kinda picked up where Cream left off. Cream opened the door to improvisation in rock and roll. But, it was strictly blues. So, when they jammed, they pretty much just jammed on one chord. It was pretty mono-dynamic too. It was brand new though; nobody had ever taken an old blues song, an old Robert Johnson song and then stretched it for fifteen minutes, you know? But they did. Duane had kinda cut his eye teeth on the Yardbirds, so Clapton, Jeff Beck, and Jimmy Page, until he saw him with Led Zeppelin, were all big influences.

Anyway, then we started playing and jamming like that, and Jaimoe turned us on to Charlie Parker, John Coltrane, Miles Davis, Cannonball [Adderley], and Herbie Hancock, Corea, and people like this. Our eyes popped open and we went, 'Damn!,' we can do that. We can take what Cream did and add dynamics to it, starting the solo way down, very quiet, and build and build it. Then Duane and Dicky; one of them would play something and the other one pick up on it and they'd jump right on it. It was kind of the thing that 'Trane and Cannonball would do when they would jam together. So, adding jazz to the mix of blues, rock and roll, rhythm and blues, a little country, and then mixing them all together. But it was that jazz element that I think made the Allman Brothers something brand new, that no one had ever heard before.

Then, I got one of the biggest compliments, and this is the reason that I'm so proud of this legacy. Several years ago I was watching a reunion of Return to Forever, and Lenny White is an old friend of mine, and I was talking to him, and I had never met Chick [Corea] before. Lenny took me back and introduced me to him and we talked for a while. Lenny left, and Chick and i really got into  a nice conversation and I would definitely say that Return to Forever was kind of the beginning of that real hard-edged fusion. Maybe Weather Report might have kind of… and then, there's no doubt about it that Bitches Brew was kinda what really kinda started it, but Return to Forever was a band that took and made what I call 'fusion jazz.' They took it to it's peak. Then came Mahavishnu Orchestra and they got totally berserk.

I asked Chic, 'Man, where did y'all get that from?', and he looked at me kinda funny, and he said, 'We got it from you guys.' I said, 'What?'

He said, 'Yeah. We're all down in the village playing in these little jazz clubs for a couple hundred people, making no money, and we could tell what you guys were doing. Every time you guys played dreams, we could hear John Coltrane's favorite things, you know?

That's where it comes from. That happened with a lot of our songs. 'Trane was a big, big influence on the band. You guys took rock and roll, and added jazz to it, and now you're the number one band in the damn country.'

We had just sold out Madison Square Garden four nights in a row, in three hours. We played Watkins Glen for 600,000 people.

They said, 'Hey, why don't we give this a shot? So we decided to come from the jazz side, and add a bit of rock and roll to it.' That just blew me away!

To hear Chick Corea say that the Allman Brothers were the motivator, the motivation for fusion; that is my favorite form of music to listen to. It's either gonna be Classical, or Impressionism, or Beethoven, or someone like that. Miles Davis, In a Silent Way, or Return to Forever, Hymm of the Seventh Galaxy. Those are my favorite albums.
Was there anything that you would like to say about Freight Train, Les Brers, or The Brothers, for the fans before you go?
No. Just Come see us. Come see it with an open mind, and be ready to have fun. There may be an Allman Brothers reunion, but I don't know. Right now, it's up to Gregg's health. If Gregg's healthy enough, then there may be; we shall see.

In the meantime, I'm pouring everything I have into these other two bands.
Well thank you for the music, and thank you for speaking with us. We really appreciate it.
Alright. You take care Barry.