Looking over the Sea of Cortez, the San Felipe International Blues & Arts Festival, at the La Ventana del Mar Resort at El Dorado Ranch, hosted by the Lions Club, has become the premier fundraising event for the area with all of the proceeds going to local charities, food bank, orphanages, and provides eye exams and glasses for the children. Each March, attendees travel from as far as Canada to attend this great festival and enjoy the local food and culture. The drive down the east side of Baja is breathtaking and the local Malecon is a great place to stroll in the evenings for some locals food and music!!  Throughout the festival, there are auctions and raffles for some great prizes, including sculptures, paintings, and two tickets and hotel rooms for the sister Baja Blues Festival (in Rosarito Beach) in August.
This year's festival started on Friday night with a pre-party in the El Dorado Pavillion with short sets from most of the scheduled bands.  The opening band on Saturday morning was Hola Soy Lola (translated: Hello, I'm Lola). A young, very talented band from Tijuana, Lola's band is as fiery as her flame-red hair, and they prove that blues knows no borders, genders, or age range. They played the Baja Blues fest in 2016 and was such a hit, they are coming back again in 2017.  The second band up was a local band, Rock Cats, who hail from San Felipe and have adopted a fusion of rock, bosa nova, and blues.
The next three bands all hail from San Diego and are regulars to both Baja Festivals. The Backwater Blues Band, led by Tom Stewart on drums, has been playing up and down the West Coast since 1996. With Phil Diiorio's powerful guitar and Nate Brown's solid bass, the trio hit some solid "wake up crowd" blues.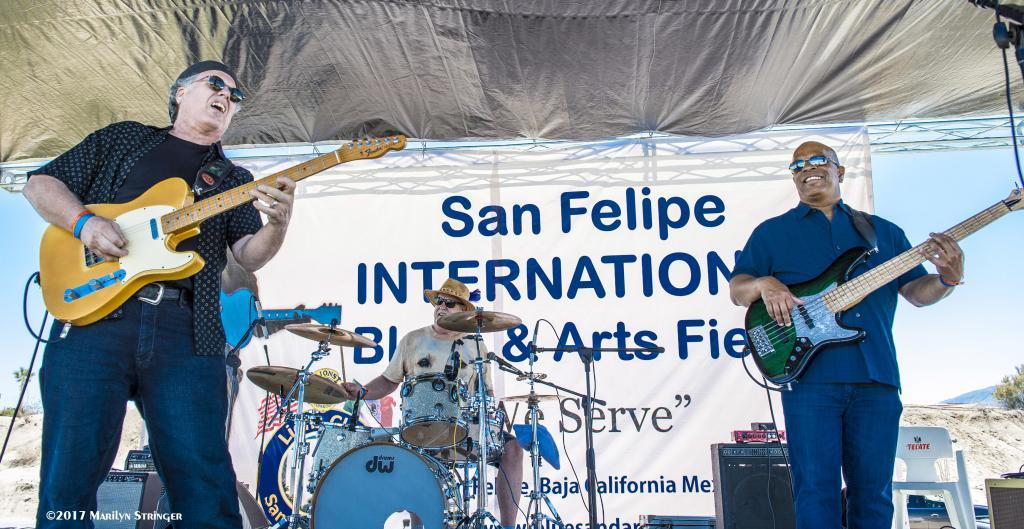 As the crowds were still rolling in, Michele Lundeen, aka "The Queen of Steam",  filled the festival with her highly energetic vocals, backed by Walter Gentry's wailing sax. Michele has been compared to a combination of Janis, Bonnie, Tina, Etta, Aretha, and Billie, and her band was tight!
The Bayou Brothers are pure Cajun and Zydeco and fun. John Chambers started the band in 1996 and still leads them on the accordion and keyboards, sometimes at the same time. Sista Judy has no trouble jumping out into the audience and leading the dancers.
Although Kansas City, along with a lot of major venues, knows and loves this trio, Baja just fell in love with them too. Nick Schnebelen (originally from Trampled Under Foot), and his band, Cliff Moore-bass, and Adam Hagerman-drums added to their fan base on Saturday afternoon. A more perfect union of styles will not be found in the blues.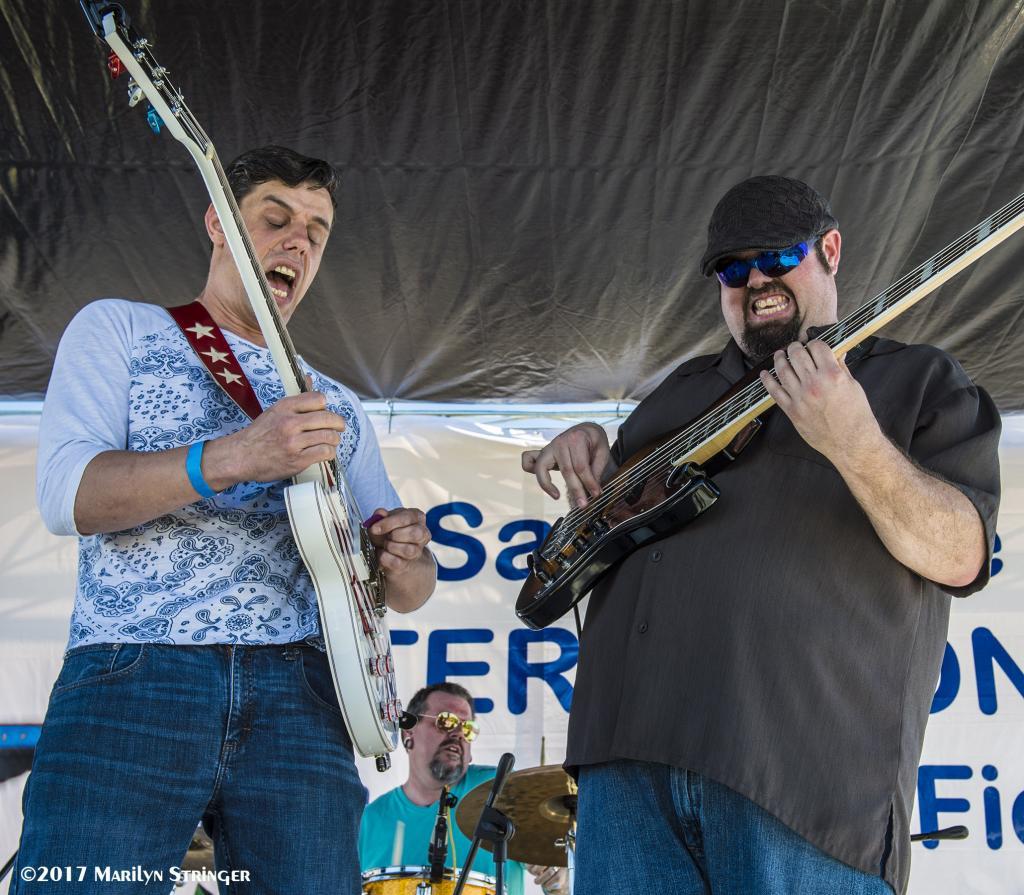 The next artist, Gregg Wright, was back for the second year. The festival's talent agent – Jim Moore – said "He was so good last year, he scared me!! I had to bring him back!" Gregg's band is based in Los Angeles and he has been called "the new King of Rockin' Blues Guitar."  With some original tunes mixed in with his personal styling on Hendrix favorites, Gregg definitely had the crowd out of their beach chairs.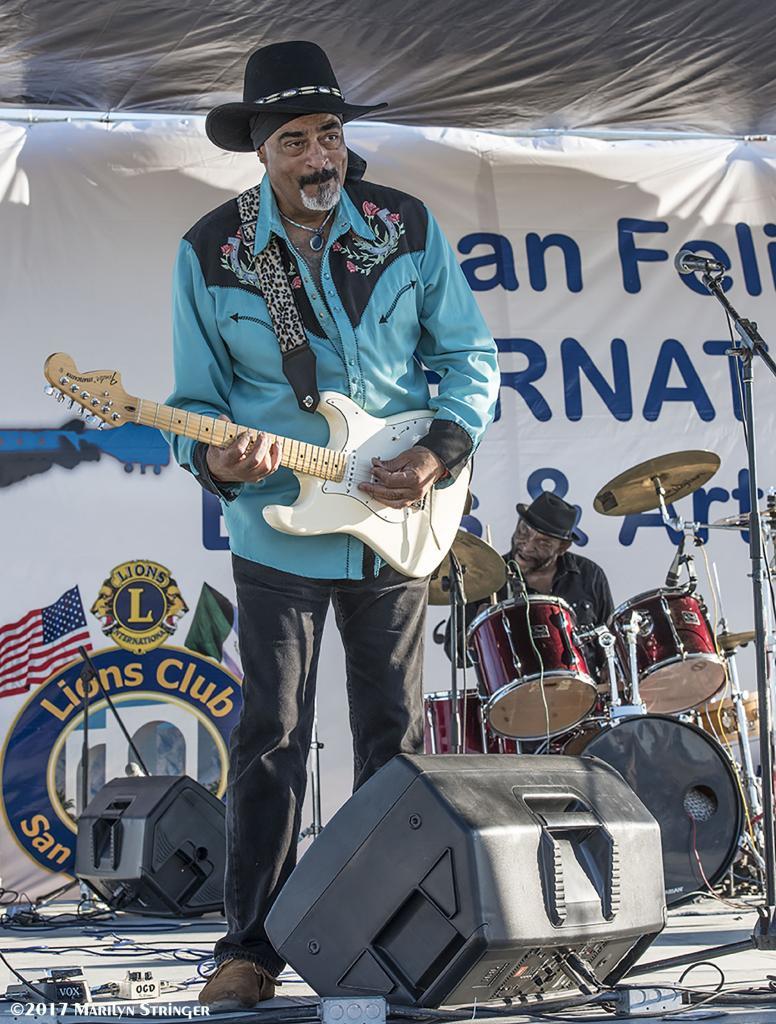 As the sun began to set over the festival, The Lucky Losers, based out of the SF Bay area, closed the festival with duets from Cathy Lemons, vocals, and Phil Berkowitz, on vocals and harmonica. The band's style puts a spin on 60's roots music along with some soulful blues. Cathy and Phil brought some Bay Area All-stars with them: Laura Chavez, guitar; Ronnie Smith, drums; and Paul Niehaus IV, on bass.  Wonderful ending to a wonderful lineup of music all day.
This is a great festival, especially if you like the beach in March, beautiful scenery on the way there, great music, Mexican food and culture, and an event that is committed to helping the community each year. Much gratitude to the San Felipe Lion's Club for all you do and a wonderful blues event too!