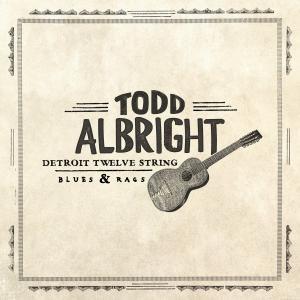 Don't be shy; drop the needle on that sweet, sweet vinyl. Swoon as the first notes cascade off the record on their journey to your hungry, waiting ears. Close your eyes. Lose yourself in days long past, now revived for your listening pleasure.
Leave it to Third Man Records to once again create this kind of experience for their dedicated followers. Always purveyors of quality music that overflows with innovation, here we are privileged to be introduced to Todd Albright on his edgy and hauntingly beautiful EP, Detroit Twelve String Blues & Rags.
Since being introduced to blues at twelve when his sister gave him a John Lee Hooker record, Albright has developed a deep love and passion for the music of earlier times when the sounds of Delta and Country blues filled the porches and clubs of yesteryear.
To hear Albright fingerpick the songs of Blind Willie McTell, George Carter, Leadbelly, Skip James, and others really rouses the spirit.  Even more remarkable is the manner in which he brings these songs to life. They are still songs of times long gone, presented as just vocals accompanied by Albright on a twelve string guitar, but these performances have an edge; they have grit and spunk! His renderings are not delicate outings; they ooze vitality and strength.
The album was recorded by Kenny Tudrick at The Black River House in Croswell, MI, and production is simple and unadorned, contributing to the bare, sparse vibe of the music. The sound and mix are sympathetic to the performances as well.
Listening to this EP through a set of headphones was an explosion of acoustic wonder. Albright plays with heart, daring, and conviction. For us, these interpretations really brought home just how well these songs have stood the test of time.
Denying your collection this record would be a real shame. We think this music should grace the shelf of blues, roots, and Americana lovers everywhere.
Detroit Twelve String Blues & Rags by Todd Albright
Third Man Records
Tracks:            8
Running Time: 31:18