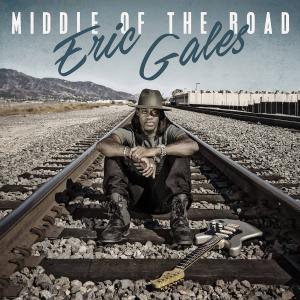 Eric Gales is back, and he is a juggernaut. Having put his addictions and other difficulties in their rightful place and now working a strong recovery program, his music is not only thriving, it is flourishing. Known for his blistering speed, spontaneity and wit on the fretboard, he has infused his newest outing, Middle of the Road, with a luscious, modern soul vibe that gathers listeners up immediately.
Recently, American Blues Scene spoke with Gales about overcoming his difficulties, his new album, working with his fellow superstars, and having his heroes watch him play live.
Barry Kerzner for ABS:
When did you know that this is what you wanted to do with your life?
Eric Gales:
Fairly early man. About ten or eleven.
What if anything do you hope to accomplish with your music?
Honestly man, it's doing my story, and what I've been through in life. If I can be a help to someone else that may go through something similar, that they can persevere and make it through. If I do that, then that's an alright thing for me.
Some of our readers may not realize that you've worked with some pretty incredible people including George Clinton and The P. Funk, as well as Carlos Santana at Woodstock '94. Who else?
Robin Trower, Stevie Ray [Vaughan]; everyone doesn't come to mind right now… Eric Johnson. Everybody that I've had a chance to work with has been very exciting for me and I'm grateful for the opportunity to play with them.
You were on the Experience Hendrix Tour in 2008 along with Billy Cox, Eric Johnson, Chris Layton, and so many more. Do have a memory you would like to share with us?
Every moment with a bunch of guys like that — it's very exciting to be around them, and it was an amazing time. I was glad to have had that experience.
You probably learned a lot just hanging out and watching them play too.
Yeah man! Of course, of course! Just being in the room is experience enough. Just to be around them was amazing!
Yes; All those players and their different style and approaches to the guitar…
Yeah. Right. Exactly!
Eric Johnson is his own little planet – he definitely does his own thing!
Yeah. he's a good friend of mine and I cherish his friendship a lot.
What's it like looking out over an audience and seeing the likes of Carlos Santana, Mick Jagger, Keith Richards, B. B. King, and Eric Clapton looking on, watching you play?
It's very satisfying to see those greats come to check out what I'm doing. It's motivation to keep on keepin' on. It's just encouragement to keep keepin' on.
The new album is a lot about what you went through; the mistakes you've made and having to own up and spend time in jail, then get on that road back. You've said, "It's absolutely great, I'm grateful to see the recognition for the work that God has allowed me to continue to progress with."  Would you like to expand on that a bit for our readers?
I think it's pretty cut and dried when I said there's limited opportunities in life to have the capability to tap into another opportunity to be able to just do the things that God gave you to do, and to do it properly. It's not something that should be taken lightly. You should do what you can man. Do what you can, and try to make every day better than the day before.
Yes, that's the thing, right there. This album spotlights a lot more soulful sound than most of your previous work, which is more rock, with blues running through it. I don't know if you've heard Samantha Fish's new album yet, but she, and now you with your 'Middle of the Road' album, took rock and blues and infused a real soulful vibe through it.
Ah, thank you man – I appreciate that! It's just how I felt and mix and blend some things that I'm inspired by and influenced by. I just threw it all in and fortunately, it came out really well.
It sounds like you, but then too, it sounds like a whole NEW you at the same time. It's a whole new adventure for you.
Yeah! It just naturally for me to do what comes out, and I'm very pleased with how it came out.
It's awesome; people are gonna eat this thing up!
I hope so.
Would you like to spend a minute talking about some of the guests that you had on the album?
Gary Clark [Jr] and I spoke about him being a part of this and he said "Absolutely," and we had a wonderful time at a show in Raliegh and spoke about the record and he said he would love to be a part of it. I let him hear the track, and he was like, "Wow, this is amazing." He came in and the rest was history.

My brother Eugene, collaborated with me on "Repetition," doing a solo that was amazing. Kingfish came in on "Help Yourself," was a great addition. That cat got a lot of spunk, got a lot of charisma going on. Collaborating with Lance Lopez on that track was great. Raphael Saadiq was a wonderful collaboration as well. I think the collaborations on this album were fantastic. If I had the chance to do it again, I'd do it again.
Your wife LaDonna [Gales] is unbelievable on vocals on the album.
They are. She did a fantastic job, and I'm very proud of her. Very proud.
It was like I was 14 years old again, diggin' some Motown. Tell the fans about Eric Gales TV What is it, and how does it work?
It's something started by my web guy, so I don't know the parameters about it. I know that it's access to see different shows, or clips, and stuff that I have on camera on there. There will definitely be more stuff added on there in the future. I think it's a fun thing, and I'd look for more utilization out of it in the future for sure.
You really enjoyed playing guitar and bass on this album. You had said, "I'm a bass player at heart so Fabrizio was like 'Bro you need to be playing the bass.' It was something that was very natural for me to too, I loved it."
Yeah man. I actually started out on bass, so, it was very natural for me to do, to have had that opportunity. That changed the game, for a Hip-Hop player to play bass on the record, you know what I mean?  Especially nowadays – it's a powerful weapon. It's so prominent and comes through so powerful. I had a wonderful time doing that and I think it was a good decision.
What advice would you give to a young artist coming up, or someone just breaking into the business?
Man, surround yourself with the right people. Always run stuff by some one that you admire and have a lot of trust in. Continue to work on your craft! Don't let nothing discourage you, or stop you from working on your craft.
Anything else for the fans before we let ya go?
All I can tell 'em is 'Watch out 'cause this year, Eric Gales is comin'!'