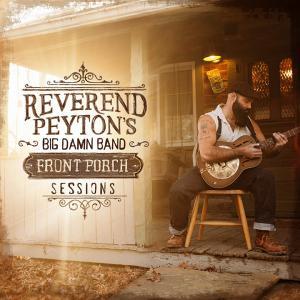 BROWN COUNTY, Ind. — "One More Thing" is the latest video from Reverend Peyton's Big Damn Band's new Thirty Tigers release Front Porch Sessions. The Reverend speaks for the working class in this haunting, politically aware song about living paycheck to paycheck. He shows a new depth in his songwriting and a social consciousness in the tradition of Guthrie, Springsteen, and Mellencamp.
The Reverend recently explained, "The song isn't a response to any one thing. It's just words I've had to live from time to time in my life. Words a lot of my neighbors are living right now. A lot of Americans are suffering."
The video was shot on the front porch at Reverend Peyton's home in Brown County, Indiana and the videography production and editing was done by Tyler Zoller.
Front Porch Sessions was released March 10 and debuted at #1 on the iTunes Blues chart displacing the Rolling Stones from top spot. The following week it debuted at #2 on the Billboard Blues charts (the Rolling Stones charted #1.) The band is currently on a world tour that lasts this whole year. Below are the dates through this spring.
TOUR DATES
Thu., March 23 BLOOMINGTON, IL Castle Theatre
Fri., March 24 CHICAGO, IL Reggie's Rock Club
Sat., March 25 MUNCIE, IN Downtown Muncie Street Fest
Thu., March 30 ST. LOUIS, MO Off Broadway
Fri., March 31 COLUMBIA, MO Rose Music Hall
Sat., April 1 KANSAS CITY, MO Knuckleheads
Thu., April 6 GREER, SC Albino Skunk Music Festival
Fri., April 7 NEWPORT, KY Southgate House
Sat., April 8 COLUMBUS, OH Woodlands Tavern
Wed., April 19 NASHVILLE, TN Music City Roots
Sat., April 22 CLARKSDALE, MS Juke Joint Festival
Sun., April 23 CLARKSDALE, MS Cathead Mini Fest
Thu., April 27 RICHMOND, VA Capital Ale House
Fri., April 28 VIENNA, VA Jammin Java
Sat., April 29 NYC, NY Mercury Lounge
Sun., April 30 BOSTON, MA Thunder Road
Mon., May 1 SYRACUSE, NY Wescott Theatre
Tue., May 2 BUFFALO, NY Tralf Music Hall
Wed., May 3 CLEVELAND, OH Beachland Ballroom
Thu., May 4 GRAND RAPIDS, MI Founders Brewing Company
Fri., May 5 PEKIN, IL Twisted Spoke
Sat., May 6 DUBUQUE, IA Vintage Torque Fest
Thu., May 11 SANTANDER, SPAIN Sala Summum
Sat., May 13 VITORIA, SPAIN Helldorado
Sun., May 14 BILBAO, SPAIN Kafe Antzokia
Mon., May 15 SANTIAGO DE COMPOSTELA, Spain Sala Capitole
Tue., May 16 MADRID, Spain La Boite
Wed., May 17 VALENCIA, Spain 16 Toneladas Rock Club
Thu., May 18 ZARAGOZA, Spain Rock & Blues Cafe
Sat., May 20 CRISSIER, Switzerland Blues Rules
Thu., May 25 ANNAPOLIS, MD Rams Head On Stage
Fri., May 26 HUNTINGTON, WV Jewel City Jamboree
Wed., June 7 FORT WORTH, TX Shipping and Receiving
Thur., June 8 AUSTIN, TX ROT Biker Rally
Fri., June 9 HOUSTON, TX The Mucky Duck
Sat., June 17 LOGAN, OH Duck Creek Log Jam
Wed., June 28 ST. PAUL, MN Turf Club
Sat., July 1 MADISON, IN Bicentennial Park