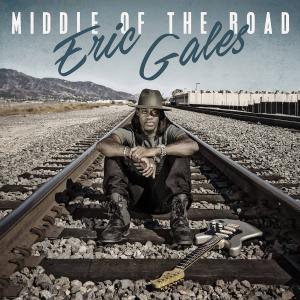 When Prince issued Musicology in the Spring of 2004, it spread like wildfire. Although concertgoers received a copy of Musicology as part of their ticket purchase, the album still sold well, and with good reason: It was a solid look at modern soul with a tip of the hat to the old-school soul and R&B from back-in-the-day. It was almost as though Prince was saying "Hey y'all; This is what solid, quality, grooving soul and R&B sounds like. What's up with the mess y'all have been putting down?" It was so good; it was almost scary!
With Middle of the Road, Eric Gales has borrowed a page from the Prince playbook. The album, Gales' fourth on Provogue/Mascot Label Group is a rebirth. Gales has said, "It's about being fully focused and centered in the middle of the road. If you're on the wrong side and in the gravel, you're not too good and if you're on the median strip that's not too good either, so being in the middle of the road is the best place to be."
In 2009 he did time at the Shelby County Correction Center for drug possession and possession of a weapon. There had been times in the past where addiction has been an unwanted partner. But now, we have the new album, which is an auspicious new beginning indeed: mentally, physically, and spiritually. There are several guests on the album including Gary Clark Jr., mentor and older brother Eugene Gales and LaDonna Gales, Lance Lopez and Christone 'Kingfish' Ingram.
Personnel are Aaron Haggerty – drums, Dylan Wiggins – B3 Organ, LaDonna Gales – All backing vocals, Maxwell 'Wizard' Drummey – Mellotron on Repetition, and Eric Gales provides all lead vocals, guitar, and bass.
These 11 tracks run 55 minutes, and they are a revelation. The sound quality, production, and mix are fresh, with an almost sparkling clarity. The backing vocals by LaDonna Gales are a transcendent backdrop draped throughout this musical masterstroke.
Excellent all the way through, we still had our favorites. "Good Time" says, "I'm back and I'm bad!" It will absolutely school players, the same way Prince cut a whole new landscape with Musicology. This is a stunning example of "new soul." "Change In Me" is a new beginning; rocking, soulful, with a perfect lead. Gales is still fast, but now, slow enough to digest. Gales said, "I changed up some things in life and decided to go a new route." Arhythmic wonder, "Been So Long" has just the slightest echoes of Living Colour's Vernon Reid coursing through it.
"Help Yourself" features the young guitar Jedi knight Christone "Kingfish" Ingram. This is a truly deep cut; rocking, bluesy, percolating, and just a great listen. "I've Been Deceived" showcases deliciously stout guitar lines, and once again, LaDonna Gales' off-the-chain vocals. "I Don't Know" is what the Red Hot Chili Peppers would sound like in overdrive!
Middle of the Road is a huge step forward in both contemporary blues and soul. Bring it home as soon as you can!
Format:            CD, LP and Digital
Label:              Provogue/Mascot label Group
Release date:    February 24, 2017