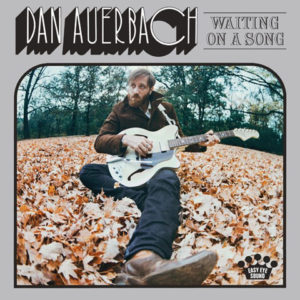 Nine-time GRAMMY–­winner Dan Auerbach will partner with SiriusXM's The Spectrum (Ch 28) on May 12th for a full-band performance which will broadcast live from Brooklyn's Music Hall of Williamsburg. "SiriusXM Presents Dan Auerbach at Music Hall of Williamsburg" will give listeners an exclusive preview of his second solo album, Waiting On A Song, which will be released on June 2nd via his new label, Easy Eye Sound. Presale tickets for this show will go on sale Tuesday, April 18th at noon ET. General on sale starts Friday, April 21st at noon ET. Tickets can be purchased here, with a two-ticket limit per order.
Waiting On A Song is Auerbach's much-anticipated follow-up to 2009's Keep It Hid and is a love letter to Nashville. As such, he recruited some of Nashville's most respected players to write and record his latest, including John Prine, Duane Eddy, Jerry Douglas, Pat McLaughlin as well as Bobby Wood and Gene Chrisman of the Memphis Boys. Auerbach said about working with his musical heroes: "Living in Nashville has definitely changed the way I think about music and the way that I record it. I didn't have all of these resources before. I am working with some of the greatest musicians that ever lived." Waiting On A Song is available for pre-order on CD, vinyl, and digitally. The album will also be available in limited-edition bundles, including an exclusive 8 track and a vintage 8 track player signed and customized by Auerbach, a seat cushion and various autographed and colored vinyl sets. Pre-order the album on all formats here.
NPR Music premiered the video for Waiting On A Song's first single, "Shine on Me". Watch it here.
Dan Auerbach moved to Nashville from his native Akron, Ohio in 2010 and with this release, his first solo album in eight years, it is clear that he has made Music City his home. During the summer of 2016, taking a break from the non-stop touring he'd done with The Black Keys and the Arcs, he finally got acquainted with the city he loves so much, as well as the world-class musicians who live there, and subsequently collaborated with some of Nashville's heavyweights. Of the process, he reveals, "They'd come over, and we'd be in a little room in my house with the door closed, and we'd just write. Monday through Wednesday we'd write, and then Thursday through Sunday we'd record every week." Auerbach wrote seven songs with John Prine, one of which is the title track of the album. Mark Knopfler's immediately identifiable guitar elevates "Shine on Me" into an anthem. Iconic guitarist Duane Eddy is featured on "Livin' in Sin" and the cinematic "King of a One Horse Town."
Waiting On A Song is the debut release, and marks the launch of Easy Eye Sound, Dan Auerbach's new record label which will feature soon-to-be-announced releases from other artists and is distributed by Auerbach's longtime label Nonesuch Records. The new label is built equally around Auerbach's Easy Eye Studio in Nashville, where The Black Keys recorded their last two albums, as well as the collection of famous session musicians that have come to call the studio home. Auerbach says, "Sometimes I feel I created my own Field of Dreams. I built the studio because I knew something was going to happen. I built it to accommodate live musicians playing, and then all of a sudden the best musicians in Nashville show up, and it's happening."
Dan Auerbach- Waiting On A Song Track List
1. Waiting On A Song
2. Malibu Man
3. Livin' In Sin
4. Shine On Me
5. King Of A One Horse Town
6. Never In My Wildest Dreams
7. Cherrybomb
8. Stand By My Girl
9. Undertow
10. Show Me