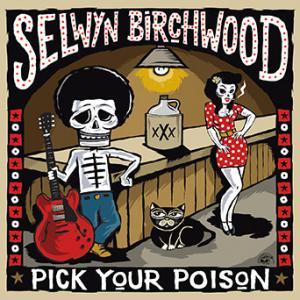 Selwyn Birchwood and his merry band of musical road warriors are back with a new album, Pick Your Poison, on Alligator Records. Set for a May 19th release, this is Selwyn's fourth record of all original music, and the collection of thirteen songs on Pick Your Poison offer up a wide variety of sounds and grooves.
There are no guest artists appearing on the record; Selwyn stuck with the tried and true formula of Regi Oliver, who apparently can play anything with a mouthpiece, stalwart Donald "Huff" Wright on bass, and the always enthusiastic Courtney Girlie on drums. These fellows fit together like a set of Lincoln Logs, each laying down a solid foundation for the others and permitting the band to emit sounds greater than the sum of its parts.
This band must be doing something right with Selwyn at the helm, because they won the International Blues Challenge in 2013, signed with Alligator Records in 2014, and picked up the 2015 Blues Music Award for Best New Artist Debut with their prior release, the critically-acclaimed Don't Call No Ambulance.
American Blues Scene caught up with Selwyn to talk about his latest recording just after he returned from a busy three-week tour in Europe. Although he and his band were still a bit jet-lagged, they were already back on the road driving to Pennsylvania during our chat.
Stacy Jeffress for American Blues Scene:
You're back from three weeks in Europe.
Selwyn Birchwood:
We did almost exactly three weeks. It started in France, then we went to Belgium, and we finished up in Switzerland.
If you are playing some of the songs from the new record, how were they received over there?
Oh they loved it over there. It's cool playing for the audiences over there. They have extreme respect for the stage. It's really an audience of people just looking at you, not as much the party aspect of it. It's cool 'cause a lot of times they don't understand the language, so they tend to listen with their ears more. Here, they listen with their eyes more. They dug the new record. I was really happy about that.
I wondered how you manage your expectations after Don't Call No Ambulance had such a great reception and won the Best New Artist Debut for you. Where do you go after the success of that album?
I don't think about it too much. I just wanted us to do the same thing that we did on the 'Don't Call No Ambulance' record – write the best songs possible, record them the best way possible, and make them sound as good as possible. I feel like everything else will fall into place if we do that. I think we achieved that on this second record. I'm really happy with the way it sounds.
Are these all originals?
Yeah, all thirteen are new songs we wrote.
I like that you have thirteen songs. So many CDs I've bought lately have just ten or so. Are you given some parameters, like here's how many songs you should have, or is it just what you've got ready?
No, it just kind of fell that way. I had more than that written, and we didn't use all of them. I wanted to make sure to have plenty of material on it 'cause we have a lot of different kinds of sounds and different types of songs we wanted to do.
You do have a nice variety. American Blues Scene will have the premiere of "Even the Saved Need Saving," so apparently that is the first single. How do they decide which to release first?
That was news to me!
It's a neat gospel sounding song. There are some wonderful harmonies in the back. Do all the guys pitch in on the background singing?
Yeah, it was Courtney and Regi and Huff.
Do you come from a gospel background at all? So many artists grow up in the church I wondered if you had some connection like that?
No, I just really enjoy the music.
Another thing I noticed; I'm not sure I've heard you do a really beautiful ballad before. "Lost in You" – is this a new kind of song for you?
I've always loved the slow tempo kind of songs if it's got a nice tune to it and tells a story that I'm into. I think that song does that.
I know Regi plays flute on here, and in fact, the first song, "Trial by Fire" has an intro like the old-time fife and drum. I love fife and drum. Tell me how that song came about.
I'm not sure. We drive a lot, and I get stuck inside my own head a lot. I think and think, then by the time I get home I have a lot of ideas I try to work out on the guitar. But Regi had actually turned me onto some fife and drum stuff. I wanted to figure out some way that we could incorporate those sounds. It's a unique and cool sound, and I don't hear people use those kinds of elements too much in this music. I thought it would be a great opportunity to try and do that.
It's a nice to start the record off – it's like paying homage to the old-time pioneers of that kind of sound.
On this record, we're trying to find our voice and figure a way to bridge the older blues styles we like and figure a way to put our personality into it. I feel like a lot of the songs on this record we do that.
When I think of Selwyn Birchwood, I think of the signature voice that you have and that baritone sax. It's all wonderful and swampy, especially if you're crawling around on the floor. Is it hard to break new ground yet keep the sound that people identify with you?
I don't really think about it. We just try to sit down and write the best songs we can. I think if we can do that, everything will take care of itself.
The song "Pick Your Poison" really stood out for me. Toward the middle, there's something like a jazz progression. The song sounds like soul and then it morphs into this really cool different thing. I'm always curious how these great creations come to be that way.
I get ideas for the way things should sound in my head, and then I sit down to try and transpose it on the guitar. When I get with the rest of the band, that's when we get some cool different colors to it. I'm fortunate that everybody in the band is musically diverse and open-minded enough to be able to understand where I'm coming from and to try to hash out the ideas together. That's when it takes shape – that's the exciting part.
Do you have those musical conversations before you get to the place you're going to record it, or do you have the luxury of having some time to think about it while you're in the recording process?
We write the songs before we get to the studio for sure. I like to have us be playing the songs live before we get into record anything 'cause after we played them for audiences, we get a better idea of where we want to go with things.
Do you alpha test to see what the feedback is?
Just to have stuff settle in and see how we want to play stuff and what feels right.
I know Regi's got all kinds of degrees in music. I saw a Facebook post he had once where he could defend every note he played. He's so technically knowledgeable. I wondered if that's a real asset to have someone who can speak that language in great detail?
It's cool because I'll come up with an idea, and I might not know exactly the technical way to talk about it or the exact progressions. I can bounce ideas off Regi, and he knows everything from top to bottom.
Talking about a song that has every element of the blues in it, "Reaping Time" has thunder, Georgia rain, a poor man crying about the woman he loved, a gun, a motive, and an eye for an eye. It's like you made a list, and boy, you got it all in one song.
We wanted it to have a cinematic feeling to it, and I feel like it does that. You can really understand the story in it.
It'd be cool if some movie producer wanted to put that on a soundtrack. It'd be a great song for setting the scene. I was interested in the last song on the record, "Corporate Drone," because I have been one of those. You've got an MBA, but I don't suspect that you've ever been a corporate drone. Was there a particular motivation for that song?
Yeah, I had a job with a corporation before I went back to school. That's why I went back to school. It was horrible. I would tell them, "That doesn't make any sense," and they hated that. It finally got to that point that they would treat you, "We don't pay you to think, we pay you to do." It was an experience!
You've had a whole string of professional successes with IBC, signing with Alligator, and the Ambulance record. The Wall Street Journal and Rolling Stone were all singing your praises. How do you keep your wits about you when people are showering affection on you? How do you stay grounded?
I don't buy into not being grounded. I know too many bad ass players and too many bad ass singers, and I listen to too many good records to ever not be grounded.
Do you have ever moments of self-doubt?
Not really self-doubt, but I have moments of hoping people on are on the same page.
I think we're all going to be on the Selwyn page for a while to come.