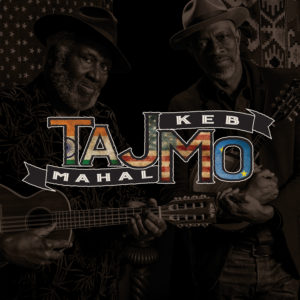 Sometimes the universe smiles a sly little smile, and music fans get something we long for. Born Henry Saint Clair Fredericks in 1942, Taj Mahal has been making great music for decades now, coming to the attention of a wide audience with his initial release Taj Mahal in 1968 and following that up with The Natch'l Blues in 1969. These two Columbia label albums are the bedrock that Taj Mahal would build the foundation of a remarkable career upon. To date he has been nominated for nine Grammy Awards, receiving two. In 2006 he received the Historical Album of the Year BMA for The Essential Taj Mahal. Also in 2006, he was designated the official Blues Artist of the Commonwealth of Massachusetts.
Born Kevin Roosevelt Moore in 1951, Keb' Mo' came to folks' attention with his Okeh debut in 1994, aptly titled Keb' Mo'. He won the W.C. Handy Award (previous name for the BMA) for Best Country/Acoustic Blues Album of the Year, 1995 for this remarkable album. 12 albums on he's been nominated for eight Grammy Awards, winning three. He is a master at spinning yarns that weave country, delta, and other blues forms into modern interpretations that still give a nod to the ancestors from which they sprang.
TajMo finds Keb' Mo' and Taj Mahal joined together, making beautiful music in the presence of one another, and with one another. Fortunately, with this album, they share their experience and music with all of us as well. The album boasts 11 tracks and has a running time of just over 45 minutes, which will seem woefully short when it's over!
There are several things that become apparent from the beginning. These two gentlemen are really enjoying each other, building the music, each seeing what the other offers and then serving up their own delight to enhance the whole. This is not competition, but more two masters, two friends, two musicians who admire each others' work, seeing where their friend will take them, as the music celebrates their journey together.
Guests joining them include Bonnie Raitt, Joe Walsh, Sheila E. and Lizz Wright. The album is self-produced, and the love afforded these tracks in the recording process by Zach Allen, John Caldwell, and Casey Wasner is undeniable. The music almost jumps off the album, and the sound is warm and clear thanks to a proper mix courtesy of Ross Hogarth.
We all experience music differently. On one level, this album is universally pleasing as it nudges, pushes, lifts up, and touches the soul, drinking in its goodness. Naturally, everyone also has their favorites. We enjoyed "Don't Leave Me Here," with its serious backbeat, horn fills, organ textures and guitar fills, and "Shake Me In Your Arms," again with an incredible back beat, and strong guitar lines with a winning solo by Joe Walsh.
Another track we appreciated was "That's Who I Am," with a seeming symphony of guitars including electric and slide by Keb' Mo', resonator by Keb' Mo' and Taj Mahal, and a great mandolin line by Colin Linden. "Ain't Nobody Talkin'" featured a slow groove, slow, with brilliant harmonies and textures, and guitar lines, while "Soul" had an infectious Caribbean vibe. John Mayer's "Waiting On The World To Change" closes the album and is a completely unique performance of this modern classic. Keb' Mo' plays bass, percussion, acoustic guitar and provides the vocals, with Taj Mahal also on acoustic guitar and vocals, with Bonnie Raitt providing backing vocals as well. The simplicity of the presentation is what endears this performance to listeners, along with the beauty of the acoustic rendering, and even a bit of scat singing too.
Don't pass up this opportunity to spend time with these two masters as they share their music with you. That would be a real shame indeed.
TajMo by Keb' Mo' and Taj Mahal
Tracks:     11
Runtime:  45:20
Label:      Concord Records
Release Date: May 5th, 2017