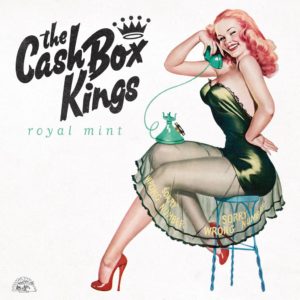 Houserocking blues masters, The Cash Box Kings have signed with Alligator Records and will release their label debut, ROYAL MINT, on Friday, June 30th. With deep feeling and top-shelf talent, The Cash Box Kings play tough, real deal, classic Chicago blues with boundless energy. They also deliver raw, passionate Delta blues, jumping proto-rock 'n' roll, and steamrolling "bluesabilly," their original mix of Chicago blues and Memphis rockabilly.
The band is fueled by the powerhouse harmonica work of Madison, Wisconsin-based songwriter Joe Nosek, and the huge, gritty vocals of Chicago bluesman Oscar Wilson. Every song they perform – be it a striking original, or a scorching Chess, Sun or Vee-Jay cover – explodes with contemporary authority and radiates old-school authenticity. According to Grammy Award-winning blues legend Charlie Musselwhite, "The Cash Box Kings play with real taste and feel. Not only is it good blues but it's a jumping good time, too! I ain't lyin'!"
Royal Mint features 13 hard-hitting songs, including six impressive originals. From the wry, politically-charged "Build That Wall," to the chilling, "Blues For Chi-Raq," to the funny, and too true, "If You Got A Jealous Woman Facebook Ain't Your Friend." With timeless versions of songs by Robert Johnson, Muddy Waters, Junior Wells, Clifton Chenier, Amos Milburn and Jimmy Reed, Royal Mint shuffles, jumps and gets down and dirty, fueled by the band's unmatched musicianship.
According to Alligator president Bruce Iglauer, The Cash Box Kings are a natural addition to the label. "I love this band because they combine the classic Chicago blues style with contemporary lyrics, true blues vocals, and terrific musicianship. Oscar Wilson's voice is a soulful roar like Muddy Waters' and Joe Nosek plays powerhouse harmonica in the James Cotton tradition. Billy Flynn and Joel Paterson are world-class blues guitarists. The whole band can deliver jumping party shuffles or down-in-the-alley gritty blues."
Nosek founded The Cash Box Kings in Madison, Wisconsin in 2001 and, since 2007, has co-led the band with the charismatic, larger-than-life vocalist Wilson. Over 20 years apart in age and coming from vastly different backgrounds, the two form an unlikely pair, combining Wilson's indisputably authentic inner-city Chicago blues vocals with Nosek's harmonica, songwriting and singing talents.
Nosek refers to the group of top-notch traditional players who comprise The Cash Box Kings as, "a blues collective." Live and on record, members of the "collective" appear in different combinations for different performances, creating an anything-can-happen experience. In addition to co-leaders Nosek and Wilson, the full ensemble includes world-renowned guitarists Joel Paterson, and Billy Flynn, drummers Kenny "Beedy Eyes" Smith, and Mark Haines, bassist Brad Ber, with newest member Lee Kanehira rounding out the band.
The Cash Box Kings have earned devoted fans in both Chicago and Madison, the two cities where band members live. They regularly headline Chi-Town venues like Buddy Guy's Legends, and Rosa's Lounge, and have played major festivals across the U.S. and Europe. They've blown away audiences at the Chicago Blues Festival, the Tampa Bay Blues Festival, the Doheny Blues Festival, the Mississippi Valley Blues Festival, the New Orleans Jazz and Heritage Festival, the Cincinnati Blues Festival, the Cambridge Folk Festival (UK), the Moulin Blues Festival (Netherlands), the Lucerne Blues Festival (Switzerland), the Baltic Blues Festival (Germany) and the Edmonton Blues Festival (Canada). They have also performed in Belgium, France, Spain, and Uruguay.
With eight previous releases to their credit and hundreds of live performances under their belts, The Cash Box Kings have won widespread acclaim throughout the blues world. Their 2013 CD, Black Toppin', won the 2013 Blues Blast Music Award for Traditional Blues Album of the Year. It was also nominated for a 2014 Blues Music Award in the same category. Their last album, Holding Court, was nominated for two 2016 Blues Music Awards and the band was also nominated for the Band of the Year Award.