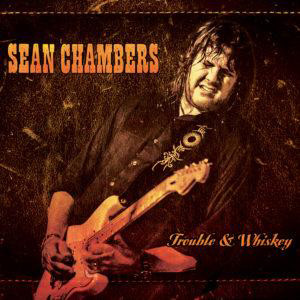 The thing about Sean Chambers is that he's the real deal. For someone who summons and channels the spirit of Rory Gallagher as innately and respectfully as he does, Chambers is humble, and grateful as well. He is thrilled to be doing what he loves and that love shines when his fingers travel the fretboard. He'll give you the shirt off his back and he'll give you a show that will leave you emotionally exhausted, wanting more.
Born in Florida, Chambers is quite familiar to the state's blues population and is becoming recognized worldwide more and more every day. With a strong work ethic, he has never been afraid of playing the road, and with each city he descends upon, he wins over more fans, young and old alike.
Trouble & Whiskey is the newest Sean Chambers album and features 10 songs; seven originals and three covers. The recording is well done, as are the mix and sound quality. The production lets the music speak for itself, and it does so in a proud, authoritative voice. This album was recorded with Chambers' band consisting of Chambers on guitars and vocals, Kris Schnebelen on drums, Todd Cook on bass, and Michael Hensley on Hammond B3 and piano. Guesting on the album are John Ginty on Hammond B3 and Jimmy Bennett on guitar.
The band is tight throughout, and this group obviously knows their craft. We really appreciated the opener "I Need Your Lovin," where the worlds of ZZ Top and BTO merge. "Bottle Keeps Staring at Me" features some wicked slide and a deep, "phat" bottom that is just infectious! The title track is comfortably bluesy with a rock edge and is a respectful nod to the late Gary Moore. "Travelin' North" is a tight, back-in-the-day groove driven delight whose keyboard textures and hot guitar lines will have listeners grinning from ear to ear.
Other high points include the Rory Gallagher classic "Bullfrog Blues," with Chambers ripping so intensely that we're betting Rory himself smiled. We also liked "Handyman," which harkens back to the Ted Nugent of the mid-seventies. Chambers takes on "Be Careful with a Fool," a song by Joe Josea and B. B. King that Johnny Winter so completely made his own.  While his reading respects the B.B. King line, and tips the hat to Winter, Chambers owns this, convincingly.
If listeners enjoy their blues with a high-octane edge that keeps things lively, then they should grab a copy of Trouble & Whiskey ASAP.
Trouble & Whiskey by Sean Chambers
Tracks:     10
Label:      American Showplace Music
Run Time:     45 Minutes