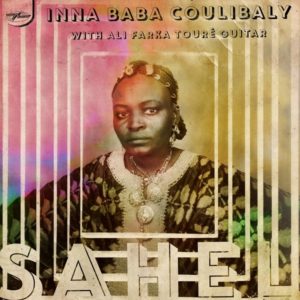 At just four songs long, you'd be hard pressed to call the archival release Sahel by Malian singer Inna Baba Coulibaly a major discovery, but the sheer quality of the performances, the rarity of the recordings and the presence of the legendary Ali Farka Touré on guitar, make this recent release an event well worth celebrating.
Issued by World Circuit Records in conjunction with Record Store Day in April, this collection of long-lost recordings from 1975 features the justly beloved Touré weaving his darkly hypnotic guitar lines with those of Amadou Djeli Ba, a celebrated master of the ngoni, a type of West African lute believed to be a precursor to the banjo. But the real star of these recordings is Coulibaly herself, who was then a shy young woman from the Fula ethnic group of West African Muslims.
The liner notes describe Coulibaly as a frequent visitor to the home of Djeli Ba in Bamako, Mali, where she would while away the hours listening enraptured to his ngoni playing. Sometimes Touré – already locally famous for his performances on Radio Mali – would drop by to join in on guitar. Coulibaly, it is said, was at first too timid to lend her voice to the proceedings, opting to hide in the next room where she would sing along softly to their performances. If these recordings are any evidence, she either eventually conquered her insecurity or learned to hide it well, because these performances reveal a singer of significant talent, nuance and – yes – confidence.
Recorded in a single day in March 1975 at the studios of Radio Mali, the four songs on this EP offer sterling examples of the kind of droning-but-never-boring desert blues for which Touré eventually earned a global following. He even takes on vocal duties for the track "N'Dale Kolene," in which he pays tribute to various people who played important roles in his life. But it is the title track "Sahel" that is the clear standout. At nearly seven minutes, it's the longest performance here but still seems too short by half. Coulibaly's crystalline vocals are simply stunning, and the song's melody somehow manages to be both joyous and haunting. Sung in Coulibaly's native Fulani tongue, the song tells the story of the brave young cattle drivers who push their herds to and from across the semi-arid Sahel region each year in hopes of earning the affection of eligible young girls in their home villages. It all comes together to create music that is absolutely arresting – not despite its simplicity but because of it.
Sahel is available digitally but the limited edition 10-inch vinyl release is the way to go thanks to its die-cut retro sleeve and four-page insert with lyrics (in Fulani and English). Only 2,000 copies pressed.